The TechRochester Technology Woman of the Year Breakfast is this Wednesday.
Join us in honoring our own, Gayle DeRose, and technology leaders throughout Rochester.

Honor bestowed upon one by peers is often the most meaningful and sought after. It's no different for the TechRochester Technology Woman of the Year award. There's much larger purpose behind the award and its companion honor – Emerging Technology Professional Woman of the Year.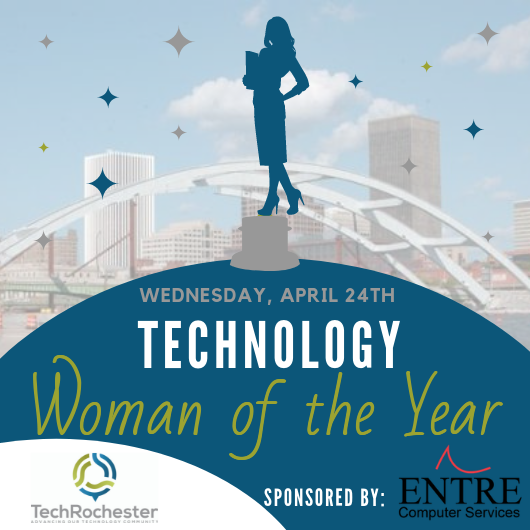 Opportunity.

When it knocks, when people are given a chance – the possibility to do something – they typically rise and exceed even their own expectations.

For Entre Computer Services President / CEO Andre Godfrey, "A high tide raises all ships," he says of the annual event taking place this Wednesday, April 24th at Monroe Country Club.

"Rochester is a technology rich city. Recognition of contribution is always important. Identifying those people who make contributions to their community and industry is also important," says Godfrey. "A focused forum in which everyone gathers to that purpose is necessary to that end."

The forum – an annual awards breakfast – is itself an opportunity for Greater Rochester leaders to network, nurture, and grow the region's technology landscape. There's an intentional preservation benefit as a result – the encouragement for women tech professionals to stay here. And according to TechRochester's stated purpose behind the awards, "mentor young women, and contribute to the economic growth of the region."

TechRochester is the freshly re-branded former "Digital Rochester" founded in 2000. In 2010 it absorbed the Association for Women in Computing, and the eBusiness Association, growing a footprint that encompasses six counties – Monroe, Genesee, Livingston, Ontario, Orleans, and Wayne. It was opportunity that begat a chance to recognize and celebrate the accomplishments of women in high technology fields.

It drew in Godfrey's heart, and Entre's long-term major sponsorship.
"The original reason was the now defunct Association for Women in Computing asked me for an idea to help foster their organization's mission. I suggested an event that honored one of their own and attached a scholarship to it which I would help sponsor. This event is the result," he says.

The elevation of its honorees and the effective success of the event keep bringing him and his sponsorship back. "[It's]the longevity of the event. The prestige that is fostered by the event to those nominated," he says. "The number of women and the quality of those women who have won the award and the sheer number of nominees of over the years. Remarkable."

TechRochester Executive Director Kim Gaylord wholeheartedly agrees, and points to a history of women contributing to tech.
"This is the 19th year that an award has been given out for TechRochester Technology Woman of the Year," she says. "Rochester has many amazing companies, and amazing woman doing amazing things in all fields of technology. It's important we take time to recognize these women and their accomplishments."

We are proud to announce that L-Tron Partner, Gayle DeRose, has been nominated for TechRochester Technology Woman of the Year for a second year. DeRose is an active advocate for closing the gender gap in technology businesses, the L-Tron team is almost 50% women. She promotes growth for women in her company by empowering them to become individual leaders. "Women bring a different perspective, often inspiring new ideas others didn't think of" says DeRose. Click here to read the full press release and to learn more about Gayle.

TechRochester is also presenting an award for Emerging Technology Professional Woman of the Year which brings the important future-forward aspect of history to the forefront.

"This is a new award started last year. These women are innovators and the future of the Rochester economy. They deserve recognition for their achievements, despite only being in the beginning of their career," says Gaylord.

With award selections come difficult decisions selecting from a host of nominees, and according to Gaylord, TechRochester keeps the process fresh. Selection is overseen by a TechRochester Board Member. Once nominations are received, a panel of pros reviews them individually. "It's a diverse group of men and women across all sectors," she says. "Every year, the panel of judges are different." Nominees are ranked one through five based on the stated award criteria. The panel gets together as a group, discusses the nominees, and selects the winners.

Giving the keynote address at the awards breakfast is Jennifer Beckage, Managing Director of the law firm Beckage PLLC, which focuses on cybersecurity, information technology, privacy law and business growth. Beckage is recognized internationally as a leader in data breach response, and was cited last year by Buffalo Business First as one of "25 Women of Influence."

We are looking forward to supporting Gayle at the TechRochester Technology Woman of the Year Breakfast this week. Stay tuned for more updates!
Interested in attending the event? Click here to get tickets to attend the breakfast.