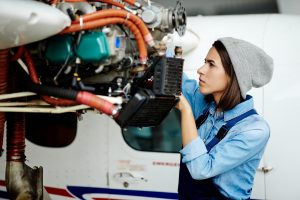 Women's History Month, originally celebrated in 1981, aims to celebrate women of history. Moreover, March is dedicated to remembering and encouraging the observation and celebration of the vital role that women play in our history. From scientists and engineers to teachers and artists, women nationwide have left their mark on our country, and THAT deserves some recognition.

Women have been pioneers behind many technology innovations that have kept us alive and well. Here are just a few examples of the women of history:

 
Although the US has made huge strides in terms of gender equality, it's clear there's room for improvement. Professor Wendi Heinzelman elaborates on how to not only encourage women in male-dominated fields, but also shares one of the key components for starting the fuss and shift toward equality.

"Engineering is a poorly marketed field. I was very lucky to have the support of my parents, but we need to do a better job of educating our kids from a young age about the possibilities and potential of a career in this field."

So how do we do this? How has Heinzelman, like so many who came before her, made women comfortable, common, and accepted in their careers?
Inspired by her professional experiences as the only female professor in the electrical and computer engineering department at the University of Rochester, and male-dominated conferences, Heinzelman teamed up with Tracy Camp, a professor of Computer Science at the Colorado School of Mines to create Networking Networking Women (N2 Women).
Growing to include 650+ members, N2 Women is a virtual community that aims to connect, build, and support women in male-dominated Science, Technology, Engineering and Math (STEM) fields around the world. Often, women can feel isolated in their careers and torn between work, home and societal expectations (I'm sure you're shocked about that statement). Consequently, women start disappearing from the workforce which drastically decreases the number of women in engineering-related fields.
Heinzelman, like countless women around the world, is setting out to change these traditions. You can read more about her story here.

What can you do to celebrate Women's History Month & the Women of History?
Encourage your daughters to learn and be all that they can be through experiments, STEM education, job shadowing, and more

Visit Women's History Month exhibits and collections
Question and challenge gender parity statements
Celebrate the women of history and their decades of accomplishments
Bottom Line: #GirlPower is real and mighty.
Even more important is the ability to recognize what women bring to the table. Appreciate and incorporate their ability to think differently. You never know, they will likely change the way you do things forever.
Finally, to all the women of the past, present, and future – You Go Girl.
via GIPHY