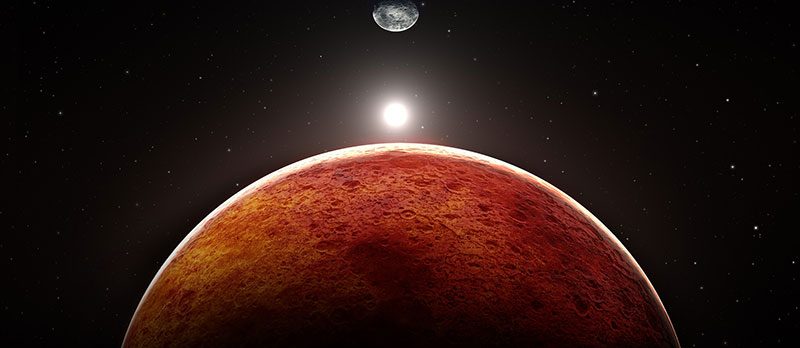 In about 20 years, NASA plans to send astronauts to Mars.
But if you're in a hurry, you can take a walk on Mars right now.
Using the same technology developed at NASA's Jet Propulsion Laboratory (JPL) in Pasadena, California, visitors to the Kennedy Space Center in Florida can experience the Red Planet at the new exhibit, Destination: Mars.
Augmented Reality (AR) provides a lifelike perspective.
A Microsoft HoloLens headset creates mixed reality by adding layers of virtual images over real ones. Visitors travel around the planet in NASA's rover, the Curiosity, navigated by the holographic image of Erisa Hines, who drives the actual rover for JPL. Using images captured from the rover, everyone experiencing Destination: Mars can see where actual discoveries were made, just as if they were there.
"Everything you see in the experience came directly from our spacecraft," says Jeff Norris, director of the JPL Ops Lab that designed the software program, OnSight. This software enables NASA scientists to determine where the rover should go and what features to explore.
Meanwhile, Apollo 11 astronaut Buzz Aldrin pops up as your tour guide on Mars. Aldrin was the second man to walk on the moon in 1969 (right behind Neil Armstrong who made one small step for man). In the simulation, Aldrin walks around the planet, in front of the rover, once again roaming out of this world.
Doug Ellison, visualization producer at JPL, explains the value of this unique opportunity. "This experience lets the public explore Mars in an entirely new way. To walk through the exact landscape that Curiosity is roving across puts it achievements and discoveries into beautiful context."
"OnSight makes the whole process of analyzing the data feel a lot more natural to me," says Abigail Fraeman, a member of the Curiosity science team at JPL. "It really gives me the sense that I'm in the field when I put it on. Thinking about Martian geology is a lot more intuitive when I can stand in the scene and walk around the way I would if I were in the field."
Destination: Mars continues through the end of 2016. Take a trip to Florida, and you could end up on Mars!