[Video] Advantech ADAM-4520 Remote I/O Module
This video briefly explores remote I/O modules, with a focus on Advantech's ADAM-4520. Discover more about the module itself and understand why remote I/O modules are beneficial in industrial applications from an industry expert.

---
Build Industrial-Grade Long-Distance Communication with Standard PC Hardware
Looking for an economical way to achieve faster transmission speeds through more channels? Advantech's ADAM-4520 Remote I/O Module gets the job done with a wide range and impressive network capabilities that will last for years to come.
Common Adam-4520 Questions Answered: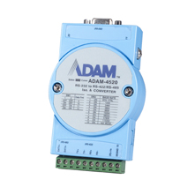 Listen as an industrial automation expert sheds light on some commonly asked questions about the Advantech ADAM-4520 Remote I/O Module.
Why would someone want to convert RS232 to RS422/485?
What's the advantage of using an ADAM-4520?
Do you need to change your PCs hardware?
What is the power requirement of the ADAM-4520?
What are the mounting options for ADAM-4520?
Successfully Implementing Automation for your Industrial Applications
It takes a team when it comes to successfully automating your industrial applications, and that team should always include experienced industry experts. At L-Tron, we've worked alongside industrial partners for over four decades, lending our product knowledge and process expertise to clients.
You'll find that we seek to thoroughly understand your current operations and needs, and work closely with you to find a solution that meets your requirements. Partnering with Advantech gives us access to top-of-the-line technology at competitive pricing, and our ISO-2015 Certification is a testament to our unwavering quality and customer service excellence.
Your Success is Our Purpose!
---
Questions? Interested in more information on Advantech or the ADAM-4520 Remote I/O Module? Fill out the contact form & one of our team members will be in touch.
For immediate assistance, please call Juli at 800-830-9532 or send an email to info@L-Tron.com.