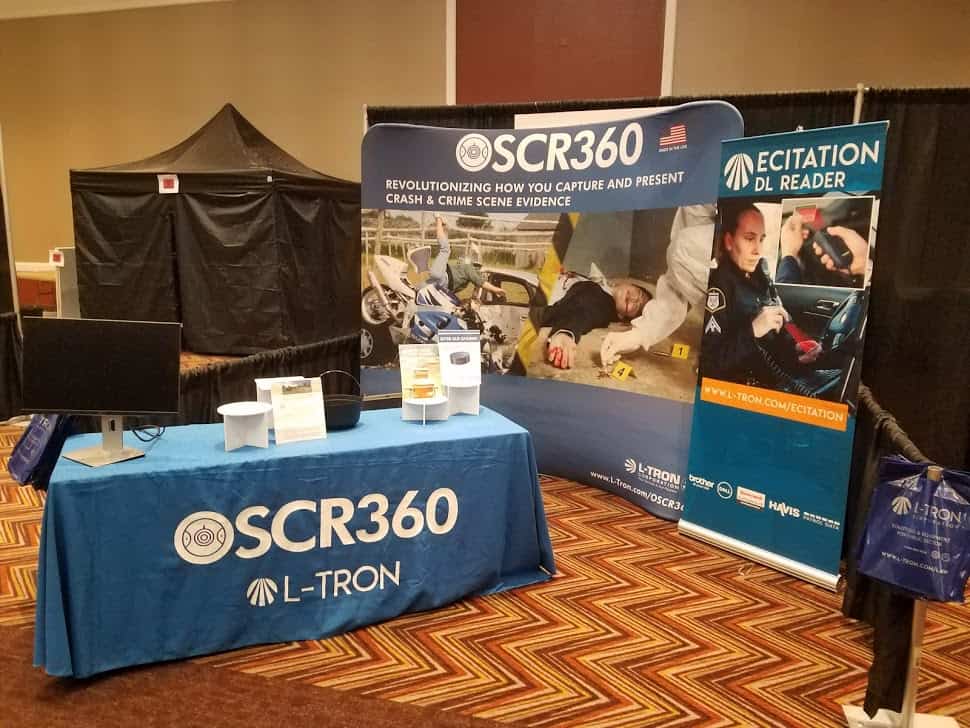 L-Tron has returned from a successful trip to the 60th Annual Florida IAI Forensic Educational Training Conference, held in Fort Lauderdale. The conference took place from October 20-23, 2019. and is the largest state-run division conference of the IAI (International Association for Identification).
At the conference, retired crime scene investigator & L-Tron Law Enforcement support team member, John Dobies, presented his case study, entitled "How 360-degree Spherical Photography Assisted in a Hunting-Related Shooting Fatality Investigation." Dobies is a 30-year environmental conservation veteran with vast investigative experience at both the misdemeanor and felony levels.
The L-Tron team also spent three days exhibiting, demoing OSCR360, and networking with conference attendees. Julianne Pangal, Marketing Manager at L-Tron, said that a highlight of the conference was testing out OSCR on a mock scene with the Broward County Sheriff's Department. The Florida IAI set up a mock scene testing area – complete with a mannequin, blood evidence, and a "dark-room" tent with various evidence on a table. The Broward County Officers were particularly impressed with how well OSCR performed in low-lighting environments.
"Attending IAI Conferences offer such a great opportunity for the L-Tron team. We love to meet with Law Enforcement officers, crime scene investigators and current OSCR360 users. They ultimately help us to build OSCR from their voice – providing feedback and telling us the features that would make their jobs easier. We love to learn everything we can."

Julianne Pangal, L-Tron Marketing Manager
Additionally, L-Tron would like to congratulate our Florida IAI giveaway winner from Palm Beach Police Department, Karen.
Next week, L-Tron will return to Florida for some follow-up demos and training with current OSCR360 customers. OSCR is currently used in hundreds of agencies across 28+ states as a system for documenting crime scenes and tying all the digital evidence together in a comprehensive presentation. Agencies such as Austin Police Department, Boston Police Department, and Orange County, Florida Sheriff's Office are using OSCR for dozens of applications in addition to crime scenes, including arson investigation, natural disaster documentation, and incident pre-planning.
---
Questions? Interested in learning more about OSCR360?
Get in touch with the L-Tron team.
Call 800-830-9523 or Email info@L-Tron.com