The L-Tron team has returned from the 2023 National Association for School Resource Officers (NASRO) National School Safety Conference. Held at the JW Marriott in Indianapolis, the NASRO Conference was geared at equipping school resource officers with the knowledge and tools they need to prepare for a safe campus-wide environment.
The school safety conference included several compelling keynote presentations, NASRO certification courses, breakout educational sessions, networking events, and vendor exhibits. L-Tron's Trevor DiMarco and Julianne Pangal were at the event June 28-29th to demo OSCR360 for Emergency Preparedness.
OSCR was well-received by both school resource officers and law enforcement agencies. Attendees echoed several common themes throughout the school safety conference. Many of them saw the benefits OSCR360 might provide their department, including:
Sharing OSCR360 interdepartmentally or with neighboring jurisdictions for school documentation, officer training, crime and crash investigations, and courtroom prosecution.
The affordability, ease of use, and efficiency of OSCR.
The convenience and practicality of installing OSCR360 on MDTs. This allows officers unfamiliar with school buildings to review campus walkthroughs during their downtime or to refer to when responding to an emergency.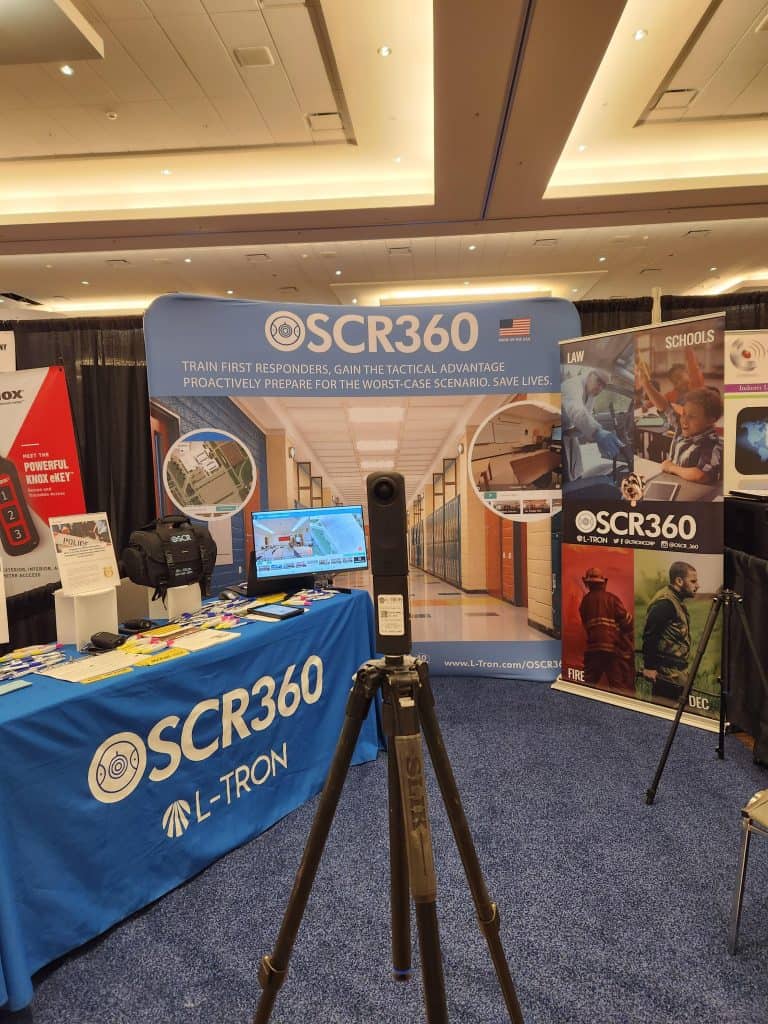 OSCR360 is an emergency pre-planning tool that helps school districts and municipalities keep their students, teachers, and staff safe. OSCR comprehensively captures, stores, and organizes 360-degree images of classrooms, offices, hallways, entryways, outdoor environments, and more, to create a detailed virtual walkthrough of the entire school campus. Then, users can associate "points of interest," in each room – highlighting safety features, entryways, exits, security systems, locking mechanisms, emergency equipment, and more.
OSCR360 helps schools to prepare for the unthinkable and gives first responders the tactical advantage needed for effective, efficient emergency response during high-stress situations.
About L-Tron
For over two decades, L-Tron has partnered with public safety agencies to provide technology solutions built from your voice. We are a proud New York State business, and we are honored to "Back the Blue" across all 50 states nationwide, through a variety of educational events, non-profit sponsorships, and more. Your feedback matters because "Your Success is our Purpose."
---


Questions? Interested in more information on OSCR360?
Get in touch with the L-Tron team.
Call 800-830-9523 or Email info@L-Tron.com