L-Tron is proud to be a Carestream Health Certified Supplier for the 6th year in a row.
We are proud to announce that we have been recognized as a Carestream Health certified supplier for 2017. This status is achieved through consistent and outstanding performance in the areas of quality, lead-time, productivity and delivery. In addition to this certification, L-Tron earned ISO 9001:2015 certification in 2017, another testament to our high quality standards.
"We pride ourselves in providing exemplary service to each of our clients on a daily basis. Customer satisfaction is our priority. Our mission is to serve our customers."

Gayle DeRose, COO, L-Tron Corporation
"Customer Satisfaction is our priority. We pride ourselves on providing exemplary service. Carestream Health took notice of our ongoing reliability and quality performance by honoring L-Tron with the status of Certified Supplier for the 6th year in a row."

RAD DeRose, CEO, L-Tron Corporation
Carestream Health
Carestream Health, a dynamic global company, serves tens of thousands of customers worldwide in healthcare IT, dental imaging, radiology, molecular imaging and non-destructive testing markets. They are a worldwide provider and international leader of medical imaging systems and IT solutions. Their solutions enable their customers to create a better life for people around the world. Carestream Health operates in over 150 countries and holds more than 600 patents for medical imaging and information technology.
They are global market leaders in:
Medical Imaging & Healthcare IT
Non-Destructive Testing
Tollcoating & Contract Manufacturing
Carestream Health's priority is to exceed their customer's expectations. We all believe that customers are the beginning and end of everything that we do. This alignment in high-quality standards and customer satisfaction has helped Carestream Health and L-Tron Corporation to foster a strong working relationship, allowing both companies continued growth and success.
We are honored to be recognized as a Carestream Health Certified Supplier for 2017.
Thank you Carestream!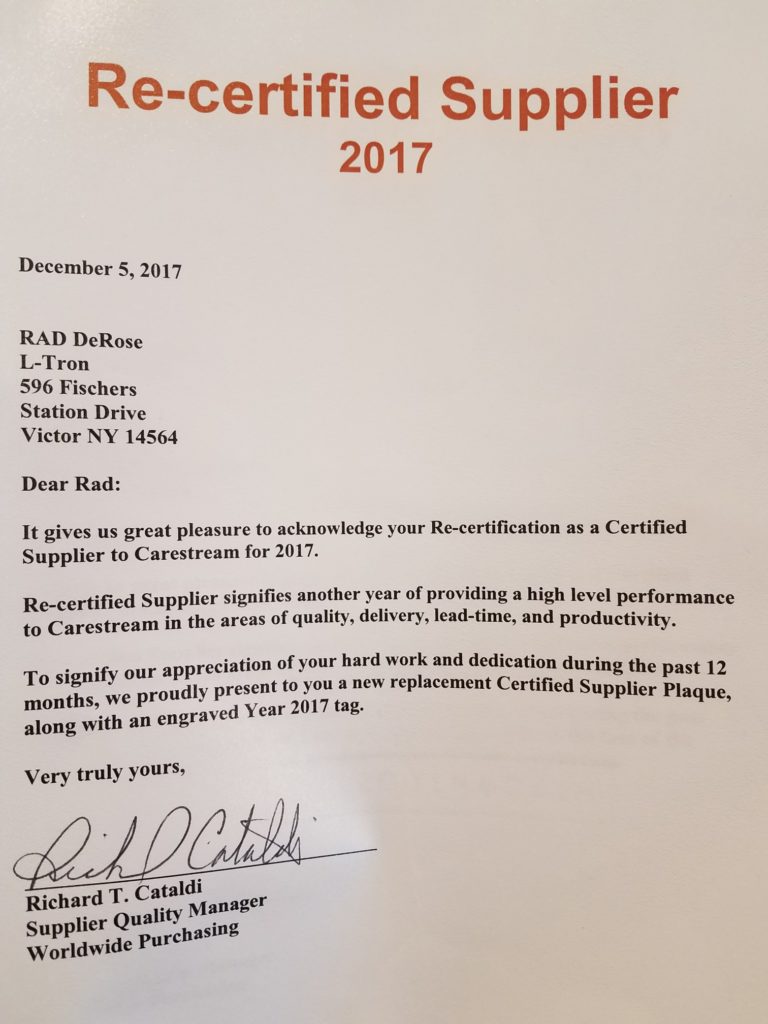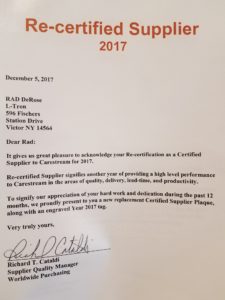 Questions? Interested in learning more?
Get in touch with the L-Tron team.
Call 800-830-9523 or Email info@L-Tron.com