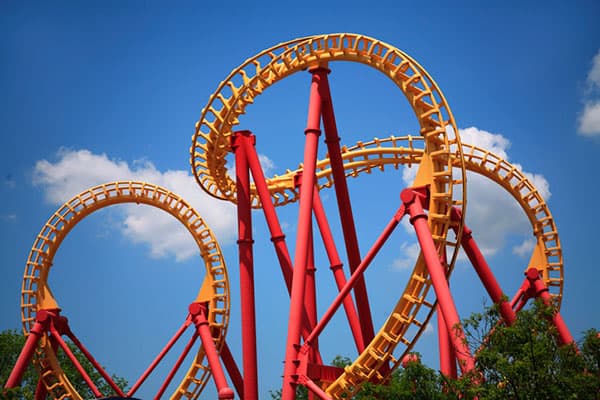 (A 3 minute read…)
Every year, America's 400 theme parks welcome approximately 335 million visitors and water parks attract about 85 million people, according to the International Association of Amusement Parks and Attractions (IAAPA).
An average of 4,423 children are treated in emergency rooms each year for amusement-related injuries, according to a 20-year study conducted by the Nationwide Children's Hospital.
The IAAPA says the odds of sustaining a ride-related injury that is serious enough to require overnight hospitalization is 1 in 24 million. In fact, you're more likely to win the lottery, with the chances at 1 in 14 million.
Where people want their rides to be bigger, faster, higher, and scarier, engineers are trying to meet the thrill-seeking demands without compromising safety.
The control systems they design are so complex that they exceed the functionality of PCs and operating systems, like Windows.
"[PCs] simply aren't reliable enough. And an operating system like Windows would almost never be used. During the day, there are guests who won't tolerate frequent down times, and during the night, the control systems need to be fully functional so that mechanical maintenance can occur." explains Steve Alcorn, who was Disney's first system engineer. He was one of the engineers who first pioneered Epcot for its 1982 opening. Nearly every theme park in the world uses some of the show controls, audio, and video equipment this his company, Alcorn McBride Inc., manufactures.
The sophisticated systems drive the mechanics and technology, which is comprised of visuals and audio that create the special effects that make the rides more thrilling.
Block zone systems prevent vehicles from colliding, and utilize actions like turning off a propulsion system to halt the vehicle.
Single and multiple point failure analysis is proactively performed on every part of the control system's hardware, software, and mechanics.
Failure modes and effects analysis occur after something goes wrong.
Learn more about amusement park ride design and technology here.
The leading cause of theme park ride accidents is rider misconduct, and most serious accidents occur on roller coasters and whirling rides. They're not appropriately buckled in or following the rules of the ride. They stand up or lean when they shouldn't.
"Of course, the goal of any ride is to be thrilling," he says, "but the engineers' goal is to make it safe. This requires a combination of mechanical engineering and control systems engineering."
The emergence of advanced technology has made it possible to build in more safety features, but also requires more IT staff at the theme parks to be on call. It's no longer a maintenance person with a toolkit who attempts to get a ride up and running, but an IT professional who runs diagnostics and troubleshoots, from a remote location.
To learn more amusement ride safety tips, click here.
Making sure people have the time of their lives—safely—is a tough job!