How do you become a forensic photographer? What qualifications do you need?
Forensic photography, simply put, is the ability to deliberately produce images that are fair and accurate representations of their respective subjects. This means photographs that maximize depth of field, are free of distortion, and are properly exposed. Click here to learn about the three types of photographs that may be taken at a crime scene.
To achieve certification as a forensic photographer, the candidate must possess a combination of education, training, and experience as required by the certifying body (such as the IAI). This typically entails formal coursework in photographic principles and hands-on training specifically geared towards forensic photography. Certification, while preferred, is not necessary to work as a forensic photographer. Having certification verifies the photographer's knowledge and competence, as assessed by an outside group of peers.
A non-certified forensic photographer must still possess the knowledge and skills required for certification. Such a photographer may face additional challenges prior to being allowed to testify, but if he is sufficiently knowledgeable, these challenges should be easy to meet.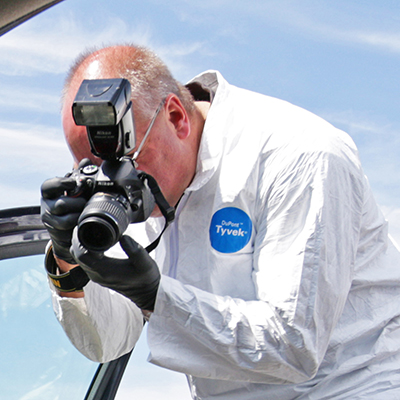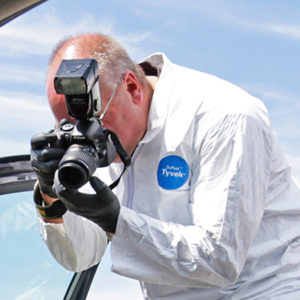 What qualifications do you need to be a forensic photographer?
According to the IAI, in order to receive forensic photography and imaging certification, an individual must complete the following;
Two letters of endorsement submitted to the Secretary of the IAI Certificaition board.
80 hours of classroom training

40 hours of hands-on photography courses (no time limit).
40 hours of forensic-specific hands-on photography courses within the past 5 years.

The applicant must be actively engaged as an examiner, analyst, practitioner or supervisor within the forensic sciences.
The applicant must have a minimum of 2 years of experience of photography within this discipline.
Applicants must possess a high school diploma.
The applicant must compete a written test. The certification test is developed & maintained by the Forensic Photography Imaging Certification Board.
Following succussfully completing and passing the written exam, applicants must take a practical exam. This exam will demonstrate proficiency in the following;

Photography of crime scenes.
Latent fingerprint photogprahy.
Photography of footwear impressions.
Injury/assault photography.
Photography of night-time scenes.
Evidence photography.
Vehicle scene photography.
1:1 imaging sizing.
Additionally, applicants may choose 3 out of 8 additional photography specialties.

Applicants must complete 10 practical assignments and submit them digitally to the certification board secretary.
Ready to become a forensic photographer? For more in-depth information on the IAI certification process, visit the IAI site here.
Currently, L-Tron's Forensic Photography Refresher course is eligible for IAI Certification hours and continuing education credits. Find out more about our upcoming courses:



Questions? Interested in learning more about what qualifications you need to become a forensic photographer?
Get in touch with the L-Tron team.
Call 800-830-9523 or Email info@L-Tron.com