I have to admit that when I first saw the TC8000, I was surprised, even skeptical. I was accustomed to mobile computers that look either like a consumer-styled smartphone or the more rugged, gun-style form factor.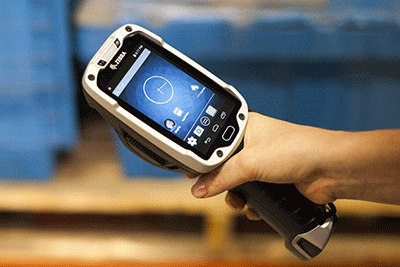 The Zebra TC8000 doesn't resemble either.
For one thing, it has a handle. Yes, a handle. In a day when everyone is looking for something more compact, Zebra went in a different direction.
And it makes sense! The stem at the base of the computer screen is ergonomically brilliant. The handle is easier to hold and eliminates the tilt-and-verify aspect of a gun-style mobile computer. The single-plane interface reduces wrist motion by 55%. Factor in the fact that it is 33% lighter in weight than traditional handheld computers, and your workers also experience a 15% reduction in muscle effort across all shelf heights.
These results add up to a 14% boost in productivity!
The "TC" in the product's name refers to "touch computer", and Zebra added yet another smart advance here.
The device's all-touch emulation keyboard is easier to use than the gun-style mobile computer's green screen interface. Users type an average of 40% faster with the all-touch keyboard, and produce 60% fewer errors. The testing showed a 13.8% productivity increase with this feature.
According to Zebra's calculation, that's a savings of one hour per worker per day!
We were also impressed with the multi-modal versatility. You can carry the device, wear it in a holster, or post it in a presentation holster for hands-free use. When you place it in this holster, it sends an alert that triggers the proximity sensor to switch to hands-free mode. The TC8000 can also do voice-directed picking using Tekspeech Pro, or push-to-talk with Workforce Connect.
Like Zebra's many other rugged mobile devices, this mobile computer was designed to take a hit and keep working. You can drop it from eight feet onto a concrete floor without breaking this mobile computer.
It also comes loaded with Zebra's enterprise-grade Android. You get the convenience of Android familiarity, with the increased security you need to protect your network, plus the advanced data capture and MDM functions.
The TC8000 is definitely a value investment in your lean manufacturing strategy. The ergonomics and functionality are designed to eliminate unnecessary motion, one of the principle's key objectives.
Watch a [Video]:

Zebra's TC8000 Rugged Mobile Computer
We've been exploring the ways we can deliver lean manufacturing technology solutions to warehouse and manufacturing operations. We're excited to see how the TC8000 changes the industrial landscape. If you'd like to schedule a free demo, please
contact us
!