L-Tron Corporation Announces New York State Contract Award
L-Tron Corporation, a leading provider of data collection and automation solutions, is pleased to announce a contract award with New York State to provide Security and Facility Systems and Solutions to New York State government entities and any institutions that receive state funding. The current New York State contract period is through August 26, 2020, which supersedes a previous government contract between L-Tron and New York State.
"We are honored to continue our working relationship with NewYork State Law Enforcement," says RAD DeRose, President and CEO of L-Tron Corporation. "We look forward to providing our technology expertise to efficiently and cost-effectively address the challenges and pain points faced statewide."
Under the New York State contract, agencies and organizations may purchase patrol car equipment, technology and accessories; mobile, barcoding and printing solutions; hardware, software and system design; and comprehensive service coverage from the published price list, found here.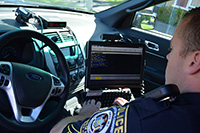 L-Tron Corporation, a New York State business for over 40 years, is proud to have a 15+ year track record of providing technology solutions to U.S. government agencies and over 2,500 Law Enforcement agencies, as well as various healthcare and financial agencies. Specializing in data collection and field mobility solutions to streamline employee workflow, L-Tron partners with leading manufacturers to provide the very best hardware and software solutions available today. "Your Success is our Passion!"