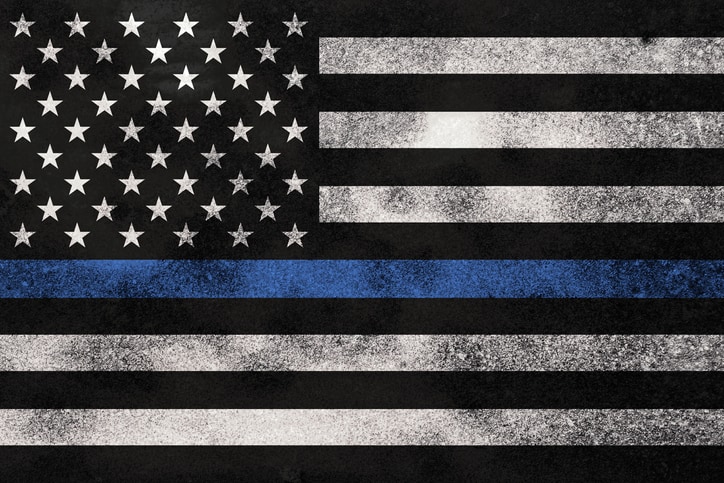 National Police Week (NPW) is an annual & historical institution in the United States. Its traditions are carried out like clockwork every spring in Washington, D.C., and include a mass, candlelight vigil, memorial services, a 5K and a 250-mile bike ride, all to honor our fallen police officers.
That is, until this year.
This week, the streets of Washington, D.C. are quiet due to COVID-19 restrictions, but the memories of the police officers who have given their lives in the line of duty remain in the forefront of countless heavy hearts across the nation.
A statement from the National Fraternal Order of Police's President, Patrick Yoes, emphasizes the difficult decision-making process that led to the cancellation of live public events. He writes,
"I am saddened that we cannot come together this year to grieve with our survivor families and draw strength from one another on the grounds of the U.S. Capitol, but given the national crisis we must, as we always have, put the safety of the public first."
How to remember and celebrate the lives and sacrifices of fallen Officers in 2020
As National Peace Officers Memorial Day 2020 approaches on May 15, the fallen will still be honored and remembered, albeit in unique ways. In fact, there are many ways you can participate from home.
Plans are being made to publicly honor the sacrifices of the fallen officers in the nation's capital at the earliest opportunity possible. We will provide updates on this page as plans are made.
History of National Police Week and National Peace Officers Memorial Day
National Police Week (NPW) and National Peace Officers Memorial day both began with a Presidential proclamation by John F. Kennedy. Two decades later, an annual Memorial Service was established, and the week's events have only grown since. Today, tens of thousands of law enforcement officers from all over the world join the survivor families to participate in events in Washington, DC.
Thank you, Officers and Survivors
On behalf of all of us at L-Tron, we would like to express our utmost appreciation to all of the law enforcement officers nationwide, as you devote yourself selflessly to public safety. It is a true sacrifice to put your life on the line each and every day, and even more so, now that you face additional risks associated with the COVID-19 pandemic. Thank you.
To the families, fellow officers, and loved ones who have lost an officer in a line of duty death, we share our deepest sympathies, and join you this week in honoring and paying tribute to each fallen hero.
---


Questions? Please feel free to reach out to us during this time.
Get in touch with the L-Tron team.
Call 800-830-9523 or Email info@L-Tron.com