L-Tron is proud to announce that for the fourth consecutive year, Carestream Health Inc. has recognized us as a Certified Supplier. This status is achieved through consistent outstanding performance in the areas of lead-time, productivity,quality and delivery.
L-Tron C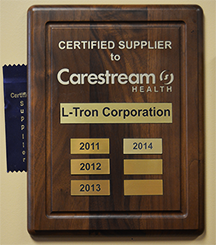 OO Gayle DeRose says "We pride ourselves in providing exemplary service to each of our clients on a daily basis. Customer satisfaction is our priority." Our mission is to serve our customers.
Carestream Health Inc is a provider of IT solutions and dental and medical imaging systems serving customers and markets with operations in over 170 countries worldwide.
We are honored to be recognized by Carestream Health as a Certified Supplier for the fourth year in a row.