VICTOR, N.Y. USA: Effective February 10, 2015. L-Tron Corporation has announced an authorized reseller partnership with Panasonic. We offer Panasonic's ruggedized line of computing devices to field service, manufacturing, and hazardous location industries as well as law enforcement and public safety arenas.
The Panasonic rugged 5-inch Toughpad® handheld tablet is more mobile than ever for law enforcement. Applications include driver's license scanning and incident reporting. This product adds to our extensive group of law computing, scanning, printing, and mounting equipment. Panasonic's Toughpad® has the following capabilities:
Surviving 10ft drops onto solid concrete
Operates in ever-changing intense outdoor climates (-4F to 140F)
Glove-enabled and has a multi touch sunlight readable display with a battery life of 14 hours
Built-in driver's license reader
4G LTE Verizon/AT&T
Experience the toughness: watch a video! 
Panasonic's Toughpad FZ-E1 and Toughpad FZ-X1 are a great addition to L-Tron's product offering.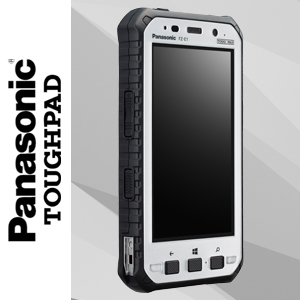 RAD DeRose, President and CEO of L-Tron Corporation states "We are proud to offer the Panasonic product line to our customers. At L-Tron, we continually seek out the best technologies for our customers and without question, Panasonic's ruggedized tablets and computing devices are built as tough as they come, all in the palm of their hand."
o   For more information on the Toughpad, call us at
800-830-9523 we would love to hear from you!