L-Tron Corporation is pleased to announce the delivery of 250 4910LR Barcode License Imagers to a county-wide Law Enforcement agency in Arizona. This is one of multiple 4910LR scanner deployments in the state of Arizona since the 4910LR launched on April 1, 2013.
The entire State of Arizona currently uses TraCS (Traffic and Criminal Software) to provide its officers with the functionality needed to record and retrieve incident information. The 4910LR is TraCS-ready with custom firmware to capture data from driver's licenses, vehicle registrations, and mobile device screens. L-Tron has worked with multiple partners to deliver over 700 units of the 4910LR to various local, county and state municipalities in Arizona since the 4910LR debut eleven months ago.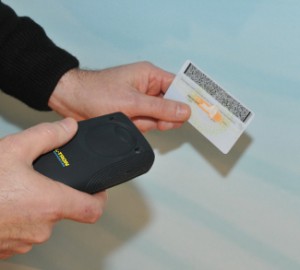 RAD DeRose, L-Tron Corporation's President and CEO, cites several reasons that the 4910LR has been well-received nationwide.
"The EasyDL and EasyParse optional plug-ins have made using driver's license and car registration data a breeze in any application, without the need for application software to parse the data," says DeRose.  DeRose also reported that the size, feel, performance, and radio mic form factor are well-liked, along with the trigger mechanism, which is durable enough to work in all types of weather conditions.
According to Jason Culliton, an L-Tron salesman, Arizona's acceptance of the 4910LR goes one step further.
He says, "Arizona Law Enforcement appreciates that the 4910LR has superior performance in bright light conditions, such as those found within the Arizona desert."
The 4910LR Microphone-Style Driver's License Area Imaging Scanner is powered by Honeywell Scanning and Mobility and provides departments with secure data to analyze and act upon by delivering superior barcode scanning, digital image, and intelligent signature capture within a durable and portable form factor. Purpose-built for patrol cars, the 4910LR lowers operating costs by decreasing administrative tasks and eliminating manual errors, such as those found on handwritten tickets, to diminish the occurrence of reduced and dismissed violations.
Over half of the states in the U.S. are currently using L-Tron's LR Series scanners in patrol vehicles. The 4910LR will be on exhibit at the ESLETS Conference in Albany, New York on April 8-9, 2014 and at the LEIM Conference and Technology Expo in Atlanta, Georgia from May 19-22, 2014.
http://www.prlog.org/12287824-tron-delivers-hundreds-of-4910lr-units-to-arizona-law-enforcement.html