*This promo has ended.
L-Tron Announces Fall 4910LR DL Reader Promos
The following promotions will be available while supplies last:
1.    For those new to e-citation and owners of an outdated driver's license scanner:
L-Tron is offering an instant trade-in credit of $25 off each 4910LR DL Reader for each old DL Reader model traded-in.
2.    For current owners of the 4910LR Driver's License Reader:
Record and email a 30 second to 1 minute video telling us why you like the 4910LR or show how you use it. We will send you a FREE Surefire G2X LE tactical flashlight. Fun and creative videos are encouraged! Questions? Call us at 800-830-9523.
Click the button below for additional information on both promotions and rules:
The 4910LR DL Reader captures barcode information on driver's licenses and registrations so officers can easily populate form fields and reports in seconds. Purpose-built for electronic ticketing (eCitation) and incident & accident reporting, the 4910LR allows officers to drastically improve efficiency and accuracy.
Top features of the 4910LR include: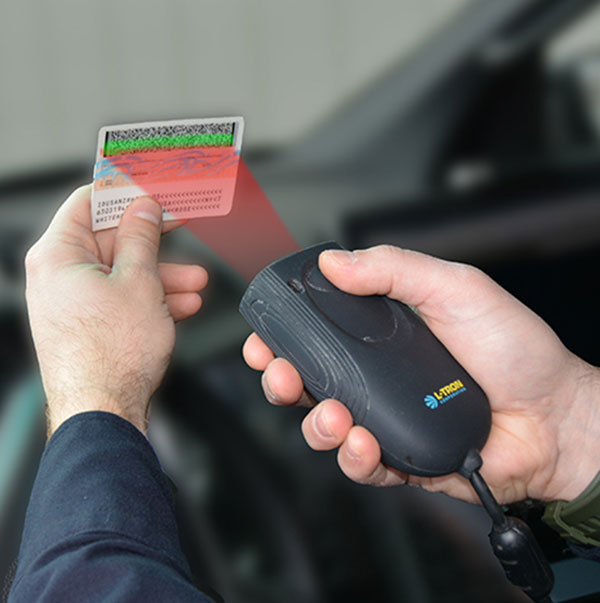 ·         Convenience
Easily stored in squad cars; familiar mic-style form factor.
·         Performance
Fast scanning in all lighting conditions (including the dark!).
·         Speed
Read a driver's license barcode instantly with a push of a button.
·         Efficiency
Eliminate repetitive manual handwritten and keyboarding errors
·         Safety
Officers spend less time on the side of the road and more time on patrol.
The 4910LR is certified by over 40 independent software vendors and can be configured to work with public e-citation and accident reporting software applications, including TraCS, digiTICKET, MOVE, eCWS, KYOPS, SECTOR, eTicket and E-TIX. Specializing in hardware for today's squad car, L-Tron's solutions have been implemented in thousands of municipalities across 48 states over the last 17 years.
"We have used these scanners for many years and they are one of the best units we've ever used, not once have we had any issue. I would recommend these to anyone."
–       Law Enforcement Officer, New York State
"The biggest value for me is time savings. If I need to get a crash report in the system, I can quickly scan four driver's licenses instead of manually typing all of their information. I save at least 2-3 minutes per license by scanning."  –  Law Enforcement Captain, California
"I probably went from writing 10 citations a week to 30 a week with my new [4910LR] DL reader." – Officer, South Carolina
Questions?
Call 800-830-9523 or Email info@L-Tron.com