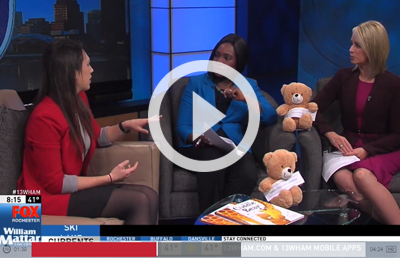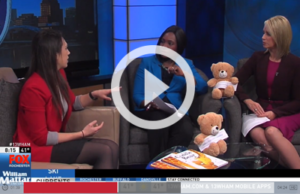 The ongoing L-Tron Cuddle Bear Drive was featured this morning on 13Wham & Fox Rochester.
L-Tron employee, Julianne Pangal, joined "Good Day Rochester" to discuss the drive, increase community awareness and drive donations.
The Cuddle Bear Drive is in support of the Books and Bears program initiated by Mayor Lovely A. Warren in 2014.
"The Books and Bears program is a wonderful example of how a small gesture can lead to great things – which is the essence of community policing.

When officers take the time during a busy and hectic event to acknowledge the presence of young children, they are showing those children that they are not invisible, that they matter and that we care about them.

I want to thank the L-Tron Corporation for supporting this wonderful program. This gift will make a huge impact in the lives of our most vulnerable children."

– Rochester Mayor, Lovely A. Warren
For every 2 Cuddle Bears donated, Usborne Books will donate a third set to the drive. The books will be used to comfort children that Rochester Police Officers might encounter on traumatic calls.This builds trust between children and law enforcement. So far, the drive has raised almost $1,500 in book and bear sets, with our goal being $5,000 by the end of the month. Stay tuned for more information on the drive, including an upcoming Happy Hour event. The bear and book sets will be delivered to the RPD in early April.

The Cuddle Bear drive will run through March 26th 2017.
The Cuddle Bear drive is indicative of the company culture here. We believe in supporting the Law Enforcement in any way possible, especially in our local community.
L-Tron is also a proud supporter of the "Cookies for a Cop" program.
Watch our 13 Wham & Fox Rochester News Segment here