eCitation with L-Tron's 4910LR Driver's License Reader is featured in the April 2018 edition of POLICE Magazine
L-Tron's 4910LR DL Reader is featured in the April 2018 edition of POLICE Magazine.
This edition features a cover story titled 'A Day in the Life of a Bicycle Officer' and also contains articles on K-9 first aid basics, less-lethal options, LPR, and police recruitment.
Read the full digital edition of POLICE Magazine here.


L-Tron's 4910LR Driver's License Reader is featured in the product section on page 6. ECitation allows officers to more efficiently issue tickets/citations for violations of the law. By moving to an eCitation system, Officers are able to save time and money on patrol, synchronize their systems and ultimately protect and serve better.
With 4910LR eCitation equipment, officers are able to complete a citation in under 5 minutes. The 4910LR was purpose-built from the voice of Law Enforcement, and created around officer needs and feedback. The 4910LR works in all lighting conditions and will read all licenses in the US and Canada. The 4910LR works with most public and private software – including TraCS and DigiTicket.
Top features of the 4910LR include;
Convenience: Familiar mic-style form factor makes it easy to store in squad cars.
Performance: Quickly scan licenses in all lighting conditions.
Speed: Instantly read a barcode with just the push of a button.
Efficiency: Eliminate repetitive manual processes and keyboarding errors.
Safety: Get your officers off the curb and back on patrol faster.
About POLICE Magazine
POLICE magazine is one of the premier Law Enforcement publications and includes columns written by current and retired police officers. Topics often featured in the publication include articles on firearms, SWAT teams, weapons, law enforcement technology, trainings, vehicles, and more. POLICE Magazine often features a special section on women in law enforcement, and has topical issue-oriented features produced by Law Enforcement journalists. The publication acts as a community for cops – and law enforcement officers can share ideas and stories on their website.
"POLICE Magazine is dedicated to providing law enforcement officers of all ranks with information that will help them do their jobs more efficiently, professionally and most importantly – safely."

– POLICE Magazine www.policemag.com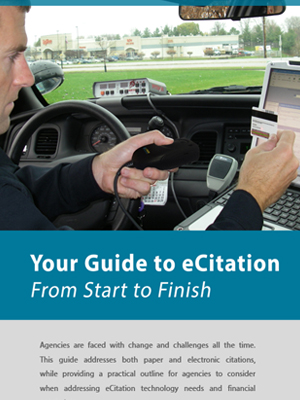 Learn more about eCitation
Download our eBook "Your Guide to eCitation: From Start to Finish"


Questions? Interested in learning more?
Get in touch with the L-Tron team.
Call 800-830-9523 or Email info@L-Tron.com