OSCR360 for Active Shooter Preparation was featured in the center insert of the September 2018 Issue of Law Enforcement Technology Magazine
L-Tron is excited to announce that OSCR360 is now being used to help officers train for critical incidents and active shooter preparation. This month's edition of LET (Law Enforcement Technology) magazine focused on "Training for the New Normal" with several articles geared towards SWAT teams, active shooter training, and major incidents. OSCR360 was featured on a center insert in the magazine.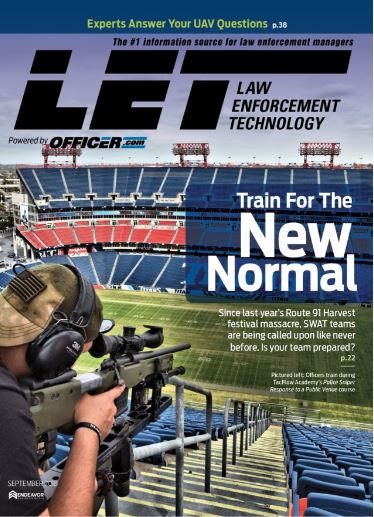 OSCR360 for Active Shooter Preparation
Prepare with confidence – OSCR360 partners with you & your team to prepare for the unthinkable. The system assists Officers with familiarizing themselves with schools and large public spaces. Command staff will be better prepared and confident as they lead first responders through a building that was 'OSCR-ed' with accurate mapping and imagery.
Team with OSCR360 for active shooter preparation to:
Quickly document schools, large public places, and buildings with 360 degree spherical photos.
Immediately reflect new construction or document building changes, giving you the most up-to-date imagery and mapping.
Provide proactive, individualized training. Access virtual tours whenever, wherever.
Have a building plan in every car – virtual tours are always available with the OSCR viewer.
OSCR provides inter-operability – share your tours with other jurisdictions, fire departments & more.
Proactively plan, and be prepared for the unthinkable event.
---
"We are using OSCR360 to capture photos and floor plans of our schools, every hallway, classroom, utility closet, etc. In the OSCR software, we are overlaying the school blue prints on the map and placing pins on those blueprints to virtually walk through the building. The final projects will be uploaded to every single patrol vehicle in our fleet so that every officer and command personnel has access to the projects should a critical incident occur."

Deputy Victor Arena
School Resource Officer, Cattaraugus County Sheriff's Office
About LET Magazine
Law Enforcement Technology Magazine (LET) was created with the Police Officer in mind. LET focuses on new technologies and trends within the Law Enforcement field. Many Officers use LET to help them determine the new technology they need for their department. The September 2018 edition of Law Enforcement Technology focused on active shooter pre-planning and training for the new normal. The cover story focused on last year's Route 91 Harvest Festival Massacre, and how SWAT teams are being called in more often. The article showed images from Officer training during TacFlow Academy's "Police Sniper Response to a Public Venue" course.

Questions? Interested in learning more about OSCR360?
Get in touch with the L-Tron team.
Call 800-830-9523 or Email info@L-Tron.com