L-Tron gives back to the community by participating in the first ever "Volunteers Heart ROC" organized by I Heart ROC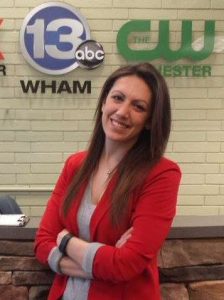 L-Tron team member, Julianne, volunteered to participate in the first ever "Volunteers Heart ROC." The event was organized by I Heart ROC editor Emily Hessney Lynch. Lynch is also the Digital Marketing & Communications Manager at High Tech Rochester.
I Heart ROC
"I Heart ROC is a collection of interviews and stories by some pretty cool people living and working in Rochester."
I Heart ROC showcases what the people of Rochester love about their city. The website features candid interviews from individuals who live, work, love and breathe all things ROC. Last year, L-Tron team member, Julianne had the pleasure of being featured on the I Heart ROC webpage. You can read her interview here.
"Volunteers Heart ROC" is born from all of the I Heart ROC contributors who have mentioned how they want to give back to the Rochester community. One of the questions during the I Heart ROC interview is "What could be improved about Rochester?" Julianne's answer focused on political division in the city and the downtown revitalization efforts. She also mentioned her ongoing support of several organizations and local charities including RPD, the Villa of Hope and Gilda's Club.
"Volunteers Heart ROC" will take place on Saturday, February 17, 2018. For its first event, Volunteers Heart ROC will be donating time to the Cameron Community Ministries. Volunteers will be preparing food and serving lunch in the CCM soup kitchen all morning.
 About Cameron Community Ministries
Cameron Community Ministries is a Rochester, NY based Urban Outreach Community Center. Their mission is "to provide hope to our community through emergency services, engagement, education and empowerment" (http://www.cameronministries.org/). While the original church structure was built in 1866, the Ministry became legally incorporated in 1985 – which marked the beginning of the youth programs, hot lunch and the clothing closet. In 2014, CCM celebrated their 30 year anniversary.
CCM programs include:
Youth after-school programs
Youth summer programs
Free hot meal lunch programs
An emergency food pantry
A clothing house
Sunday celebration dinner (weekly)

Questions? Interested in learning more?
Get in touch with the L-Tron team.
Call 800-830-9523 or Email info@L-Tron.com