L-Tron celebrates National Bagel Day with treats for the entire office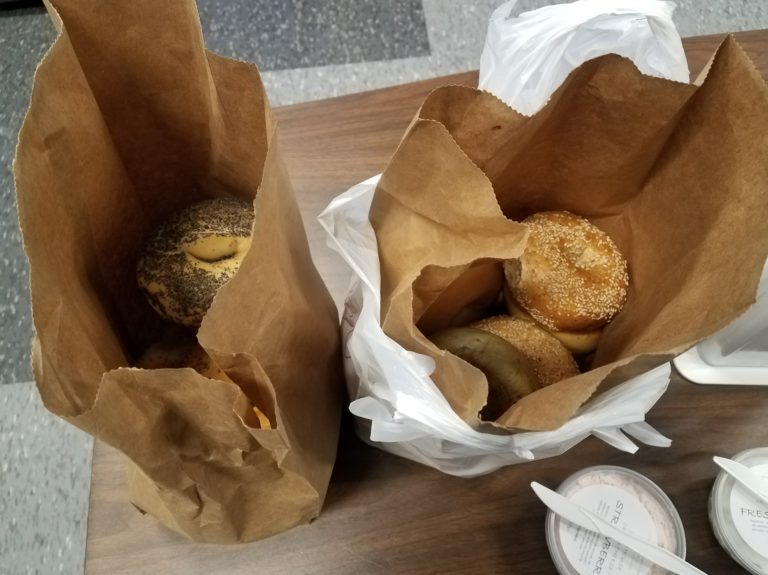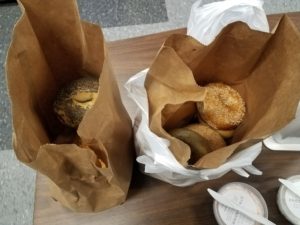 The L-Tron staff celebrated National Bagel Day with bagels for the entire team on Friday. We brought in bagels from Balsam Bagels for breakfast, and some (bagel) chips to keep up the celebrations after lunch. Team members requested the bagel flavors they wanted – from everything bagels to cinnamon raisin. Cathy even requested a chocolate chip bagel (and Balsam Bagels is the only place in Rochester where you can get them). We love our quirky team!
What's your favorite type of bagel?
So what's your favorite type of bagel? We love data and took an office poll to determine our most popular flavor(s). Here is some of the feedback we received:
The fan favorite -Everything bagels – which (no surprise), the majority of the team wanted.
Keep it classic – Cinnamon Raisin for Alex.
Odd man out – Juli loves egg bagels.
Sweet tooth – Cathy requested chocolate chip bagels.
Elyse doesn't have a favorite bagel, but she does enjoy strawberry cream cheese!
About National Bagel Day
National Bagel day is celebrated annually on February 9th. The day is technically considered National Bagels and Lox Day, however the L-Tron team held off on the "fishy" addition to our breakfast. Bagels originated in Poland in the 17th century. They are one of the few breads that are boiled, then baked. This is one of the reasons (people claim) that bagels from places like Long Island and seaside communities taste "better." Over the years, many flavors and varieties of bagels have appeared throughout the United States. In addition to variations such as the Flagel (flat bagel) and bagel chips, some of the strangest flavors we could find include; french toast bagels, beet bagels, sweet potato bagels, Twinkie bagels, Fireball Whiskey bagels and salt & vinegar bagels. Look for great deals from your favorite bagel shops all week long.

Questions? Interested in learning more about our company culture?
Get in touch with the L-Tron team.
Call 800-830-9523 or Email info@L-Tron.com