L-Tron kicked off February with an office Super Bowl party & company happy hour
The L-Tron team held an office Super Bowl party last week in preparation for Sunday's big game. The team started off the celebrations with a happy hour event at the Distillery in Victor on Thursday, then brought in tons of treats and snacks for lunch on Friday. We love our quirky company culture.
Our Office Super Bowl Party
The L-Tron team knows how to eat! While we were excited for the game – after all, the best part of the Super Bowl is always all of the delicious treats, right?! The entire team pitched in to bring snacks and lunch. We call it the "L-Tron 15."

Some contributions included;
Jeremy brought pizza & tons of wings.
Ken whipped up some "special" olives.
Nate brought in veggie dip.
Jason made some hors d'oeuvres.
Julianne brought in munchkins & made some garlic bread.
Gayle and Elyse grabbed tacos for the team.
Cathy, Alex and Tom contributed sweet treats.
The team took some time to eat lunch together and catch up. We all shared our plans for game day and who we were rooting for to win (the Eagles, of course).

Thursday night, some of the L-Tron team went down to The Distillery in Victor. We enjoyed happy hour beverages and half-priced appetizers. The Distillery is a Rochester staple. The original location opened on Mt. Hope Ave in 1980. The bar offers a distinct selection of beers, with seasonal rotating beers on tap. This year, the Distillery ran an interesting Super Bowl special – if the Eagles won, everyone at the bar would eat for free! The "Frickles" (fried pickles) and fried green beans were a big hit with our team. We are planning on having monthly happy hour events at both the Distillery and at a location in downtown Rochester (TBD).
Super Bowl LII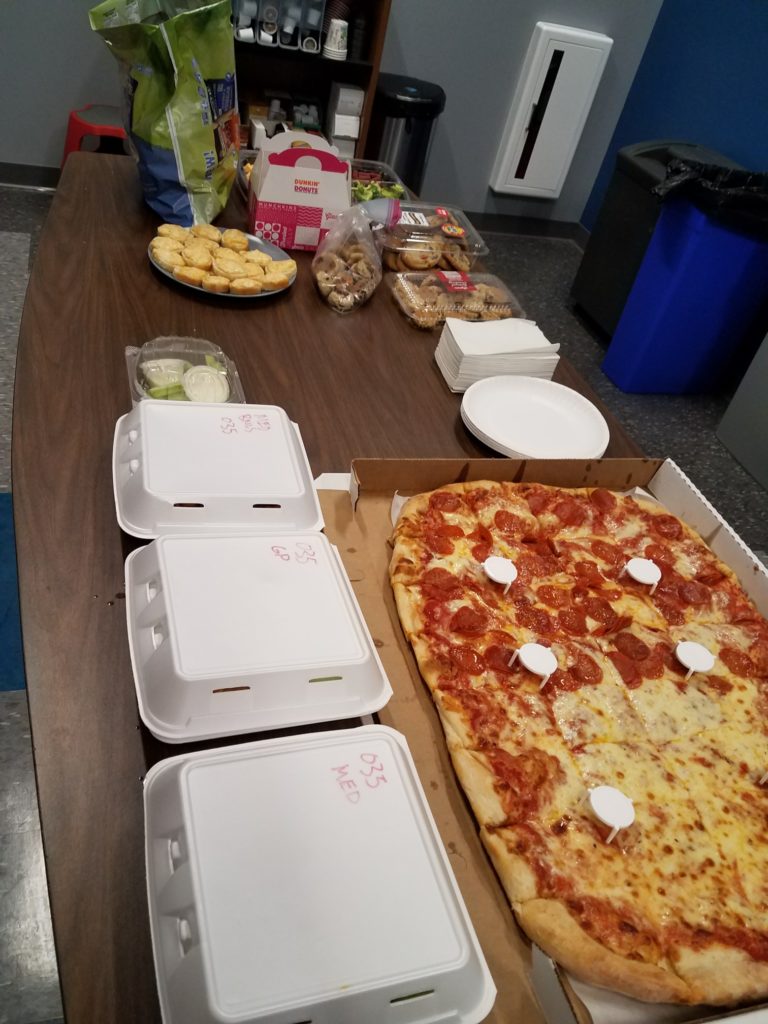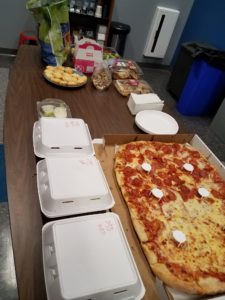 The Super Bowl LII game had the Eagles battling the Patriots. Although the Eagles lost their starting quarterback, they had high hopes to beat out the 5x Super Bowl Champion Patriots and Tom Brady. A little bit of data for you – the Eagles have appeared in 3 Super Bowls, while the Patriots have played in 10. The halftime show this year featured Justin Timberlake. At the end of Sunday's game, the Eagles prevailed and beat out the Patriots! The final score of the game was 41 to 33 Eagles.
We hope you had fun this Sunday and enjoyed the game, the food and good times with friends, family and co-workers!

Questions? Interested in learning more?
Get in touch with the L-Tron team.
Call 800-830-9523 or Email info@L-Tron.com