Flip it Forward: L-Tron Celebrates National Pancake Day with a big office breakfast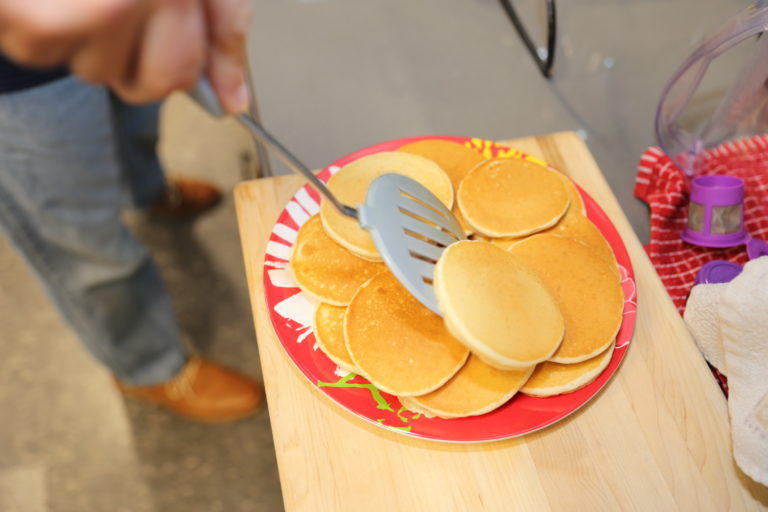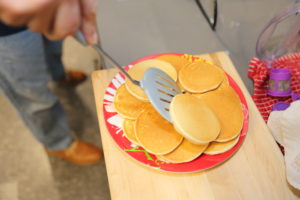 National Pancake Day falls annually on March 12th. While the day is a celebration of (arguably)  the best breakfast food, IHOP (the international house of pancakes) takes National Pancake Day to the next level. The chain restaurant offers their customers free short stacks of pancakes between 7am and 7pm, and asks that diners make a donation to support 3 charities; Children's Miracle Network Hospitals, the Leukemia & Lymphoma Society & Shriner's Hospital for Children.

This year, IHOP has a fundraising goal of $4 million dollars.
Although the L-Tron team couldn't make a company wide trip to our local IHOP, we decided to celebrate the day by cooking pancakes (from scratch) in the office. The entire team contributed; Andy brought in his griddle and volunteered to flip, Tom brought in the ingredients to make the pancakes, RAD brought in REAL maple syrup, Julianne brought in whipped cream and butter & Elyse brought in fresh fruit (as a topping or to bake inside your pancakes). Overall, the company had a great time and enjoyed a big breakfast together. Teamwork makes the dream work.
L-Tron decided to "flip it forward" too. We asked that employees make a donation to a charity near and dear to our hearts – World Concern. We will continue, throughout the year, to support the clean water initiative.
Some fun facts about pancakes:
International Pancake day is celebrated in the UK, Ireland & Australia on Fat Tuesday – to accomplish some spring cleaning and rid the kitchen of sugar, fats & eggs (mentalfloss.com).
Currently, the record for the highest pancake toss is 31 feet & 1 inch.
The world's largest pancake was made in Manchester, England. It was over 49 feet across and weighed in at 6,614 lbs.
In the United States, southerners eat the most pancakes (approximately 32.5% of the pancake consumption) (tonsoffacts.com).
Up until the 1930's the United States was the largest producer of maple syrup – the perfect pancake topping. Now, Canada holds the top honors.
Share your pancake pics with us on social media @LTronCorp or @LTronTeam & don't forget to "Flip it Forward!"


Questions? Interested in learning more about National Pancake Day & our company culture?
Get in touch with the L-Tron team.
Call 800-830-9523 or Email info@L-Tron.com