The L-Tron Team Celebrated National French Fry Day!

The L-Tron team celebrated National French Fry Day 2017 yesterday. RAD and Gayle treated the office to fries from the local Five Guys Burgers and Fries. Even Oscar (our office dog) took part and scarfed down his fair share of food. Oscar and Cathy enjoyed lunch together in the conference room.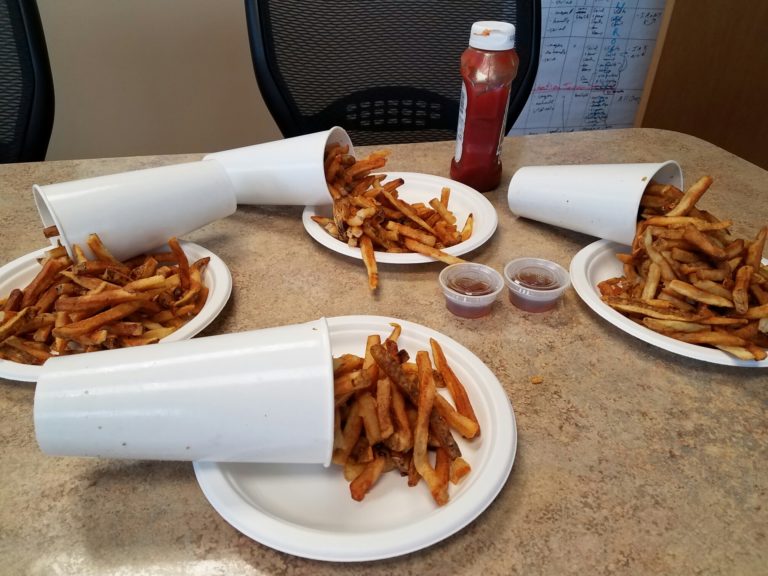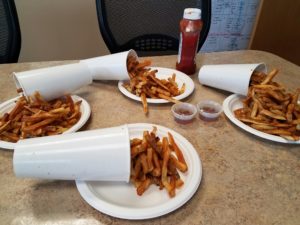 National French Fry Day
National French Fry Day falls on July 13th each year. Although French fries originated in Belgium, they have become a staple of all-American food.
Many establishments offer special deals or even free French fries for National Fry Day. No matter what style of fried potatoes you prefer – curly fries, waffle fries, sweet potato fries – you can get in on the action and score some great deals.
Some 2017 deals include:
Arby's: Free small fry and drink with a brown sugar bacon sandwich
Burger King: Get 2 cheeseburgers, a small drink and an order of fries for $3.49
Dairy Queen: Small fries are only $1 all day
McDonald's: One free order of fries with any app-based purchase through September 7th.
Pizza Hut: Get 24 wings with sauces plus 2 orders of waffle fries for $19.99
What's your favorite style of Fries? Favorite dipping sauce? We hope you got a chance to enjoy National French Fry Day too!