LIGHT GRENADE
BLOW SHI*T UP WITH LIGHT
Stop giving away your position. Gain the tactical advantage.
A down range, deployable, tactical 360 degree light source.
INCREASE YOUR SAFETY
Make your target visible first in dark situations with this portable tactical 360 degree light. Stop giving away your position with tactical flashlights. Use your peripheral vision and eliminate traditional flashlight tunnel vision.
GAIN THE TACTICAL ADVANTAGE
Easily detect shadows and motion in dark rooms, alleys, abandoned buildings, basements, stairs and more. Use this tactical light for quicker threat recognition leading to a quicker response.
KEEP YOUR DISTANCE
Drastically improve your distance between threats. Light Grenade allows you to see shadows and motion to detect threats first.
VIDEO: How the Light Grenade was Invented
How the Light Grenade was Invented
Designed by cops for cops. A former Police Officer found himself chasing a suspect into a dark abandoned building and realizing he had lost his tactical advantage. He did not want to use his tactical flashlight to identify his position, yet found it impossible to navigate down a dark hallway without it. Light Grenade was developed to keep Officers safe.
TWO LIGHT GRENADE OPTIONS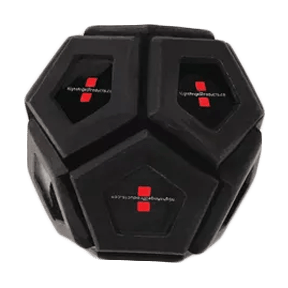 IR Light Grenade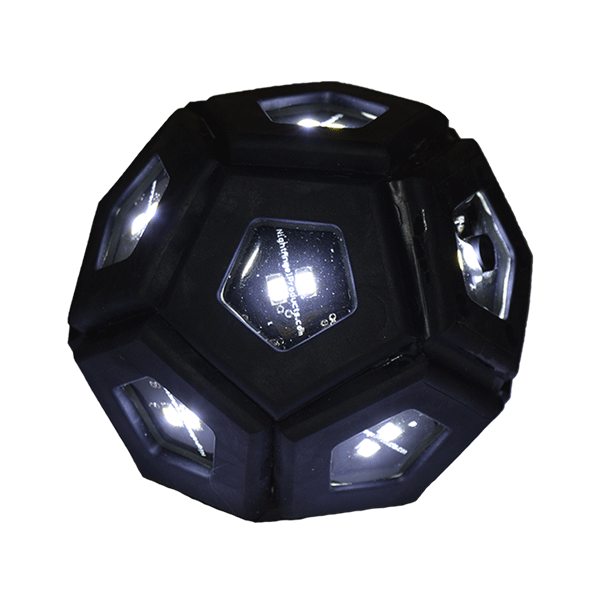 White Light – Light Grenade
CONTACT US
Question? Fill out the contact form and Julianne will respond within 1-2 hours on the same business day.
For immediate assistance, please call Julianne at 800-830-9523 x115 or email info@L-Tron.com.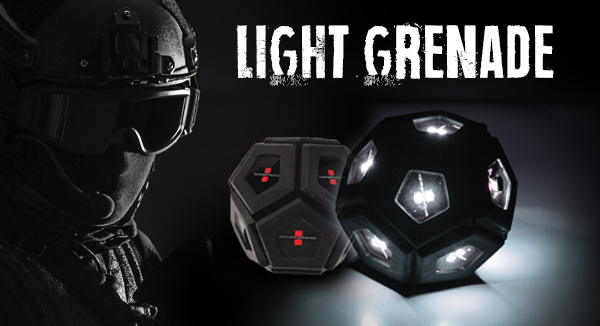 DESIGN FEATURES
Made for cops, by cops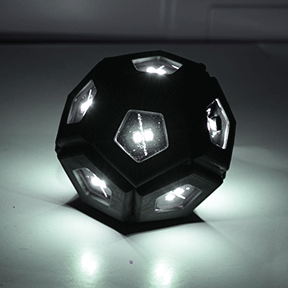 HIGH LIGHT OUTPUT
Utilizes LED technology that provides high output, reliability, and long life. The 1500 lumens output provides tactical angled light in 360 degrees for easy identification of the area in question.
NEVER A BAD THROW
The Light Grenade was strategically designed so it won't keep rolling after you throw it. This tool is the size of a baseball and there are 12 sides, made for landing in your targeted position.
LIGHT IN EVERY DIRECTION
Use your peripheral vision. Illuminate an entire area with 360 degree light. Tactical flashlights generate tunnel vision, your eyes follow the light as it sweeps the room and you cannot see the whole area.
RECHARGEABLE
Battery life lasts for one hour. These units are also rechargeable, supporting over 500 charges.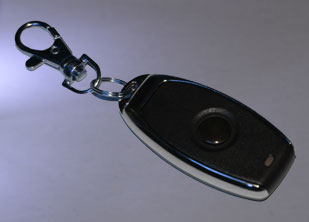 SIMPLE TO DEPLOY & ACTIVATE
Light Grenades are the size of a baseball and are easily deployed. You have full control over the portable light with a detached key fob. You also have the ability to connect multiple Light Grenades to one key fob.
Light Grenade Breaking Glass
ULTRA RUGGED
This non-lethal tactical light breaks through glass and is waterproof. All units come with a 1-year warranty.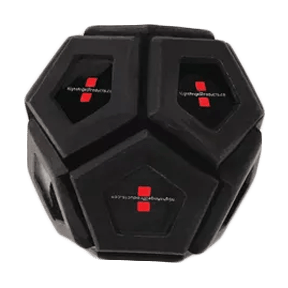 NIGHT VISION
Infrared models are available for Special Ops, Military and SWAT teams. (Night vision goggles are needed for this model).
YOU SAY IT BEST
"We just field tested it today in low light training with SWAT. It increased reaction time to suspects in rooms from 3.5 sec to 1.5 since teams reacted to movements outside rail light cone shaped zone. Very Impressive device so far.

SWAT Commander
One retired officer purchased a unit during Police Week in Washington DC this year in memory of her partner who was shot and killed in a dark hallway. She believes a product like the Light Grenade would have lit the way and kept them in the dark vs. the perp which could have led to a different outcome.

Officer Story
"During a training session, Light Grenade cut perp ID time in half, versus a standard tactical flashlight."

Training Officer
VIDEO GALLERY
Deploying a Light Grenade
Deploying a Light Grenade Video
Break glass and control light on your terms
Light Grenade Breaking Glass at Night
Testing out the Light Grenade at Tac Ops East
Testing out the Light Grenade at Tac Ops East 2017
Testing Multiple Light Grenades at Tac Ops East
Trying out multiple Light Grenades at Tac Ops East
Retired K9 Likes the Light Grenade Too
Retired K9s Like the Light Grenade Too
ADDITIONAL RESOURCES
ARTICLE – Why 360 Light Trumps Cone Shaped Light in Hostile Environments
CONFERENCE – Come see us at Tac Ops East. Sept 6-9, 2017 in Arlington VA
ARTICLE – A New Kind of Tactical Light, by cops for cops
DATASHEET – Click for spec sheet