OSCR360 featured in the April Edition of LET Magazine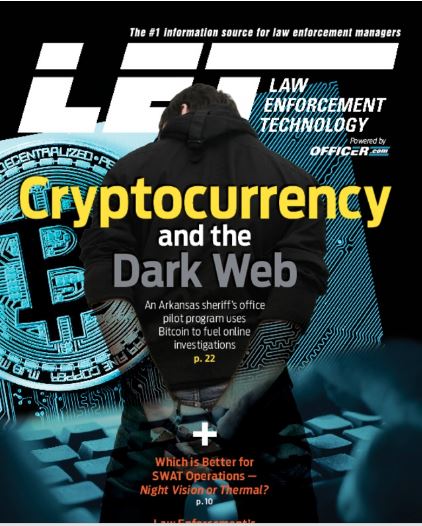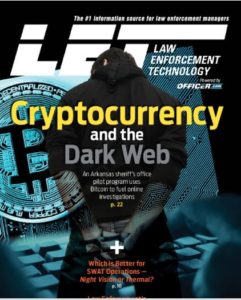 OSCR360 was featured in the April 2018 edition of Law Enforcement Technology Magazine (LET). More information on OSCR can be viewed on pages 39 and 40 of the magazine. There is also a segment on L-Tron's 4910LR Driver's License Reader, as well as information on Situational Awareness & Technology on pages 36 and 40.
Read the digital version of the April 2018 Edition of LET Magazine here:

Law Enforcement Technology Magazine
Law Enforcement Technology Magazine (LET) was created with the Law Enforcement Officer in mind. LET focuses on new technologies and trends within the Law Enforcement field. Many Officers use LET to help them determine the new technology tools they need for their department. The April Edition of Law Enforcement Technology focused on cryptocurrency and cyber security. The cover story focused on "Cryptocurrency and the dark web" – the article discussed how an Arkansas Sheriff's Office is using Bitcoin to fuel online investigations.
The OSCR360 Solution
Revolutionize crime scene investigations with OSCR360. More than just a camera; OSCR360 was created to organize, capture, contain and connect all of your digital evidence ultimately helping Officers and Prosecutors to pave the path to justice. The solution was originally inspired by a jury duty experience. OSCR360 provides depth, perspective and a greater understanding of your case by providing a virtual crime scene walkthrough.
Users begin to organize their case before the first 360 degree spherical image is taken. Officers can create a project with the capture kit, documenting a crime or crash scene. Then, evidence can be added to each project/case. Organization is maintained from the first time you set foot in the crime scene, all the way through to your courtroom presentation. Juries, judges, Law Enforcement Officers, and witnesses all see the same virtual walkthrough and can be taken back to the scene over and over again.
OSCR360 was built from the voice of Law Enforcement and Prosecuting Attorneys. Every feature in the OSCR software came directly from user feedback and was developed with your budget challenges in mind.
Want to see OSCR in action? We can provide a walkthrough of our OSCR360 Software
Contact Juli here for more details



Questions? Interested in learning more?
Get in touch with the L-Tron team.
Call 800-830-9523 or Email info@L-Tron.com