L-TronDirect Launches New Barcode Generator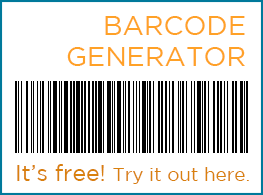 Victor, NY, USA: Effective June 1, 2016. L-Tron Corporation announces the launch of a free barcode generator feature on the Company's e-commerce site, www.L-TronDirect.com.
The user-friendly barcode generator facilitates the creation of over 40 different barcode symbologies in just five easy steps. The generator creates both 1D and 2D barcodes, including QR codes, UPC, Code 39, and Code 128. Barcodes can then be copied, saved, emailed, or printed for personal or organizational use.
L-Tron CEO, RAD DeRose, says, "We are providing this valuable free service as just one more way for us to give back to our clients. We appreciate their business and hope that this complimentary service adds to their satisfaction with our Company."
For more information, an instructional video on how to use L-Tron's free barcode generator can be watched below:

How to Use L-Tron's Barcode Generator