Did you have a chance to attend our Refresher Forensic Photography Course?
Read our photography course wrap up, learn more about the event & stay tuned for information on our next training.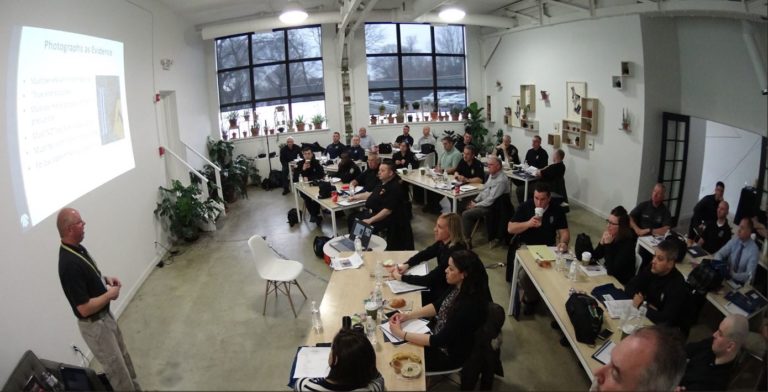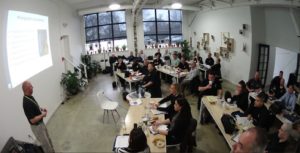 L-Tron Sponsored Forensic Photography Course Wrap Up:
The Forensic Photography Refresher Course, held on Thursday, April 12th 2018, was successful in getting Police Officers, Evidence Technicians, and other Law Enforcement Officials reacquainted with their cameras. Roughly 35 Officers from police departments across western NY were able to attend. The event was held at the Rochester Brainery, a local event space in downtown Rochester that promotes learning and considers itself a "community classroom." Breakfast & lunch were provided by L-Tron, in addition to the coffee breaks. The course was led by instructors, Andy McNeill & Sergeant Hank Kula (Ret.), who have a combined 45+ years working in Law Enforcement. Both instructors are current members of the L-Tron Law Enforcement Support Team.
In addition to the knowledge gained at the training, attendees also walked away with bags filled with information on photography, their cameras and L-Tron. Each attendee received a USB with their personal camera manual uploaded to it, a laminated card with typical exposures and shooting specs for various scenes, and candy/goodies from L-Tron. Overall, attendees said they had a great experience and walked away with valuable knowledge.
"The instructors were excellent and provided a lot of forgotten information for me. The staff was extremely friendly and welcoming. Thank you for providing the course!"

– Forensic Photography Course Attendee & WNY Police Officer
About the Course:
L-Tron was proud to sponsor the 5-hour refresher course on Forensic Photography. Photography is often your primary forensic documentation tool. It underscores the production of "true and accurate" images of scenes and specific evidence. L-Tron's training encouraged and enabled attendees to better control their cameras, and break out of the auto-mode rut.
Topics covered included: exposure values, camera settings, and an overview of crime scene procedures. The training included an introduction to the benefits of using spherical imaging to integrate, organize and relate traditional photography and other digital evidence for investigations and courtroom presentation.
Attendees will follow simulated cases using OSCR360 developed by L-Tron Corporation.
Didn't get a chance to attend our April photography course?
Visit our Forensic Photography page to learn about our upcoming events!
Join our waiting list for the next training – date & location to be announced based on area interest.


Questions? Interested in learning more?
Get in touch with the L-Tron team.
Call 800-830-9523 or Email info@L-Tron.com