Written by Carmella Giancursio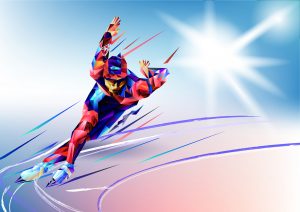 Another Winter Olympic Games has begun and we all know what that means:
Athletes paraded through the Opening Ceremonies.
Countries vying for the lead in the gold medal count.
Graceful figure skaters leaping and twirling through the air.
Focused skiers swooshing swiftly through the course.
Bobsled teams speeding down the track.
And of course,
Wait, what?
Yup, believe it or not, robots are very much involved in the 2018 Pyeongchang Olympics – and there's quite a bit more technology to boot.

Here are 3 fascinating ways that you can find the latest technology incorporated into this year's Winter Olympic Games:
Robots
These autonomous manmade helpers are being used for a variety of tasks at the Olympics besides carrying the torch. Guide robots – fluent in 4 languages – are working inside of South Korea's largest airport to direct travelers to their gates, help them find a restaurant or shop, provide information about flights and more. There are also robots designed solely to tidy up the airport throughout the day. (I want one of these!) Of the 85 robots being used, some are even painting murals!
Virtual Reality and Drones
Fans can get closer to the action than ever before during the 2018 Pyeongchang Olympics. Intel®, partnered with Olympic Broadcast Services, has brought True VR Technology to South Korea, capturing 30 Olympic events in both real-time and video-on-demand. One fun feature made possible by drones includes "flying" through the Olympic Games to get a sense of the layout and locations. VR technology even helps Olympic athletes and their coaches, allowing for a close analysis of performance from different angles.
The Dainese D-Air ski suit will be sported by a number of athletes in this year's winter games to detect when a skier is about to crash at high speeds and inflate to provide spine protection.
Giro H Avance helmets will protect numerous athletes with head protection in the event of impact. These multi-directional impact protection (MIP) helmets are being worn by skiers to reduce impact from crashes and from the slalom gates.
Samsung has developed sensor-equipped SmartSuits to be worn by speed skaters, which will provide data to coaches during training sessions. (Such SmartSuits are not allowed during competition). This live data feed allows coaches to make suggestions to skaters about adjustments in posture and form so that skaters can skate faster.
Couldn't make the journey to South Korea to follow the Winter Olympics? No worries! Google Home has you covered. Simply ask questions such as "OK, Google, how tall is _____" or "OK, Google, who won the women's 1,000 meter speed skating in the Olympics?" and get all of the real-time Olympic updates at your fingertips.

2018 Pyeongchang Olympics By The Numbers:
Can't get enough of the 2018 Winter Olympics? Check out these fun facts:
To avoid being confused with Pyeongyang – North Korea's capital, the city changed its name and capitalized the "C" to read PyeongChang just for the games!
The Olympics wouldn't be complete without a stadium. PyeongChang constructed a brand new, $109 million, 35,000 seat stadium
Meet Soohorang – the national mascot for the 2018 games!
There are 2,952 Athletes taking part in this year's winter games competing in 102 events across 15 sports throughout 16 days from 92 different countries. In total, members of Team USA hail from 31 states.
Did you have a favorite 'technnovation' during this year's 2018 Pyeongchang Olympics? Share with us in the comments below or send us a tweet at @LTronCorp. With all of the new technology used in these winter games, can you imagine what 2022 will bring?