Spring has finally arrived! If you live in the Northeastern states like us L-Troner's, then I'm sure you were probably starting to think it would never arrive. February was Rochester, NY's coldest month…Ever. Can you believe that the average temperature was only 12.2 degrees? Brrr!
But now that spring is here, my mind is on green grass, warm temperatures, sunshine, and of course, landscaping! I must say that it is very exciting for me to walk into a landscape supply store this time of year. There is just something about the smell of dirt and plants and fresh air that makes me breathe out a sigh of happiness. What I can't stand, however, is when an employee can't help me find what I'm looking for or when long checkout lines leave me wondering if I really need to redo my back patio! Why waste time standing in long checkout lines when I can be outside in the sunshine?
In the case of Troy's Landscape Supply Co., located in the Albany, NY area, the store manager wanted to expedite the checkout process, as well as easily keep track of inventory to keep customers, like me, satisfied. Troy's Landscape Supply has been in business for almost 30 years and has a great reputation among its customers for good reason!
We actually had the recent opportunity to work with Troy's Landscape on an exciting project. They had been using some pretty ancient technology to track their inventory and accept customer payments, which presented them with several problems, including:
Slow and outdated mobile computers (unreliable for customer checkout)
Different interfaces and operating systems on mobile computers, desktops, and laptops
The need for trained employees to handle the devices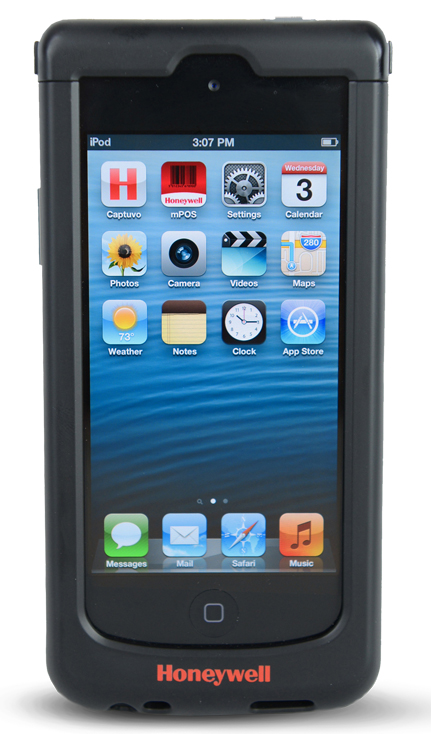 When we spoke with the company about implementing a new and improved mobile POS (point-of-sale) solution, the office manager at Troy's Landscape knew he wanted mobile devices that could fit easily in an employee's pocket and perform quickly and reliably at the point-of-sale.
L-Tron provided a POS solution that included the Honeywell Captuvo SL22 Enterprise Sled paired with the iPod Touch®. The Captuvo SL22 features Honeywell's leading technology to scan barcodes quickly and accurately, as well as easily process credit card transactions at the point of sale. The Captuvo Sled also provides a level of protective housing around the iPod Touch® that is suitable for a rugged outdoor environment, such as that of a landscape supply store.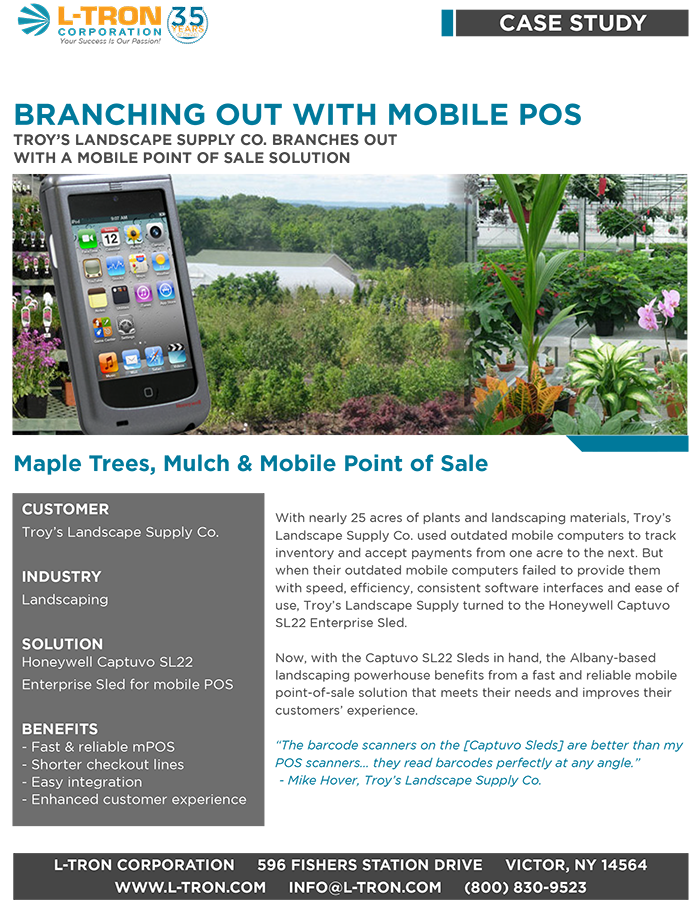 Now, whether a Troy's Landscape associate is accessing their impressive inventory of tools, materials and decorations or checking out a customer purchasing wall block, pavers and stone products, the job is a cinch. Long checkout lines are gone, customers can pay for their purchase anywhere in the 25-acre facility, and each employee can easily navigate their iPod Touch®. Plus, the battery life easily lasts through the entire hours of operation at Troy's Landscape!
Whether you're using pen and paper or an outdated computer system to track your inventory and check customers out, there's a better way! If you have any questions or would like to learn more, please let us know at (800) 830-9523 or info@l-tron.com.