Since the 1990's, mobile computers have adapted to changing technology and have benefited large-scale industries worldwide. As different industries began utilizing the power of mobile computers, the form factor of the devices began to change to meet specific industry needs. Below is a snapshot of the progression of mobile computers and how each form factor benefits the application at hand.

Industry: Shipping & Receiving / Healthcare
Style: Large, Handheld
The traditional mobile computer is a long handheld device with a display screen, scanner and key pad. This mobile computer is designed specifically for rugged environments where the device is used frequently and potentially in harsh environments. UPS was the flagship company that first adopted use of this mobile computer. UPS needed a solution to accommodate their constant travel, scanning, and package tracking needs. This device incorporates everything they need to be successful in the shipment industry.

Industry: Warehousing & Distribution
Style: Large, handheld
This form factor is a modification of the one before. A handle was added for easier use and comfortable grip, typically in warehouse settings where more scan-intensive applications take place. These are usually rugged devices and can operate in freezing temperatures.
Industry: Field Service, Law Enforcement, Retail, Inventory Management
Style: smaller, handheld
With the trend of electronics getting smaller, mobile computers evolved to incorporate smaller keyboards and easy-to-use touch screens.
These mobile computers are most commonly used in a wide variety of industries because of their customization options, size, keyboard and versatility.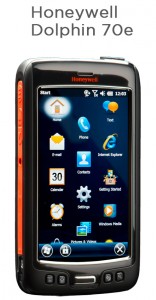 Industry: Retail, smaller-scale applications
Style: small, handheld smartphone
The most recent form factor adapts to the popularity of the small touchscreen smartphones that we use every day. It is built to resemble a rugged smartphone and is equipped with 2D scanning capabilities and can fit in your pocket. This device is useful for small to medium size applications such as retail mPOS and inventory tracking.

To make the smartphone style mobile computers more versatile, there are several add–on items to tailor the device to your specific needs.
Additional products include:
RFID Sleds (like the Motorola RFD5500 RFID Reader Sled) give the mobile computer the ability to scan RFID tags
Mobile Commerce Sleds (like the Honeywell Captuvo SL22) turn Apple products into an enterprise ready device
Ruggedized encasements to protect the mobile computer from damage and aid in increasing the lifespan of the mobile computer
Battery Packs
Stationary mounts
And more
Over the course of 25 years, each form factor has had a tendency to 'stick' with a specific industry.
What mobile computer style is being used in your industry? Let us know on Twitter, @LTronCorp!