When faced with a technology sourcing issue, some prefer to take the path of least resistance when finding a solution. From a procurement perspective, a readily available, all-in-one retail system can be preferable at times. It cuts down on the legwork required to source material and it makes the entire process easier.
Keep in mind, there can be problems with sourcing a standard off-the shelf solution.
All-in-one solutions are preconfigured and standardized by the manufacturer. The specifications are preset and there's little flexibility in revising the configuration to meet your requirements. This can result in a configuration that will be functional but will not accommodate all I/O integration along with any future expansion of that platform.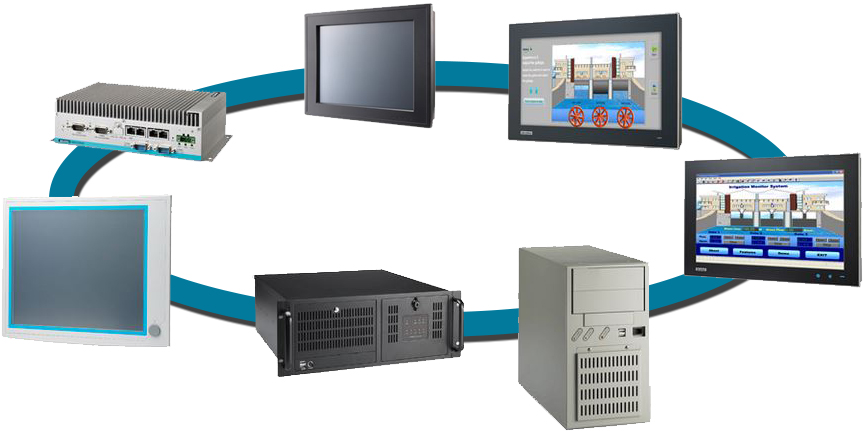 By sourcing a custom configured Industrial PC, you can avoid being pigeon holed by a standard off-the-shelf system by building a PC that adheres to all of your specification requirements.
Quality: The problem with mass produced PCs is that they can lack one key ingredient; Quality. This isn't always the case, but it is the first thing to consider when looking for a solution. Industrial PCs are manufactured to operate 24/7/365. The material utilized for the chassis and bezels are done so to withstand the harshest of elements and the main board components are manufactured with industrial components to prolong the system lifespan.
Configuration Flexibility: Industrial PCs are available in a myriad of form-factors and I/O configurations. There are headless, fanless Embedded PCs that can be combined with any HMI if a large amount of LAN, COM and USB ports are required. Rack mount/wall mount/desktop PCs can be configured with an Industrial ATX Motherboard or Passive Backplane and Single Board Computer depending on the amount of internal I/O cards to be installed.
There are also fanless Touch Panel Computers for less I/O intensive applications along with Panel PCs and Industrial Panel PCs for the more rigged and I/O intensive projects. The wide selection of CPUs, RAM HDs, SSDs and CFs also enable the user to select the appropriate processor, memory and storage for their application.
Standardization: When larger projects come over the horizon, it's nice if all PCs on a line or in a room are the same. If you are considering utilizing a retail solution, boards in those systems will change every six months or so. By using an Industrial PC, you can standardize your configurations since all chassis and boards have an availability of 5-7 years. This enables you to develop a "gold image", which can be implemented across your platform.
Long Life Support: Industrial PCs are just that; Industrial. They are built to last a long time. The average lifespan of an Industrial PC is 10+ years. This is a great asset to have in a PC because you want to make sure your lines not only run efficiently but that they operate with as little downtime as possible.
So which is the right solution for you? The all-in-one, preconfigured PC built for the masses, or the customized Industrial PC built specifically for your application with quality and longevity in mind?
Questions?
Fill out this contact form and a member of our team will reach out to you within 60 minutes on the same business day.