It's very easy to go online or out to the store to look at and purchase a standard PC. Although these PCs will provide you with a myriad of software and application options, there are specific applications that they won't be able to address. For that reason, I have included 10 important aspects to consider when selecting your Industrial PC. This is more for the industrial users than anyone else, but everyone might find some benefit in the information below.
10 Things to Love about Industrial PCs:
1. Fanless: Fanless PCs are available as headless Embedded PCs and as Touch Panel Computers. There is value in a fanless PC due to the wide operating temperatures they can accommodate.
2. Multiple Form-Factors: You can find a variety of 1U-7U rack mount, wall mount/desktop, Touch Panel, Embedded, Panel PC and Industrial Panel PC units to accommodate your application. Depending on the amount of space you have, there is an option available to fit your project.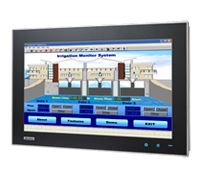 3. HMI Option: There are multiple options available for an Industrial PC that would include an HMI. Depending on whether you are looking for a fanless Touch Panel Computer, I/O-intensive Panel PC, Rugged Industrial Panel PC or a headless Embedded PC combined with a Flat Panel Monitor, there are numerous options available. Sizes range from 5.7" to 21.4" and full HD resolution, widescreen, multi-touch, resistive and capacitive models are available.
4. I/O Intensive: In certain instances, a greater amount of I/O is required than what can be found on a standard PC. Rack mount/wall mount/desktop PCs can be configured with motherboard or passive backplane and single board computer to accommodate legacy ISA, PCI and PCIe cards. These PCs range from six to 20 slots. There are also I/O intensive Embedded PCs that include multiple LAN, COM and USB ports if fanless is preferable and space is at a minimum.
5. Operate 24/7: In several industries and processes, it is imperative that your PC(s) run 24/7, 365. Due to the construction of the chassis, bezel, motherboards, backplanes, system on modules, single board computers, peripherals and I/O, Industrial PCs can withstand rugged and dirty environments, while providing you with the peace of mind that they won't fail. The larger chassis also include multiple fans to improve air flow, keeping the temperature down and operation consistent.
6. Extreme Temperatures: Where heat is prevalent, such as in glass or PCB factories, it is crucial that the PCs controlling the process can operate without failure. Industrial PCs successfully operate at 32 ~ 131°F and can be stored at more extreme temperatures than that.
7. Class I, Division 2: There is always a need for explosion-proof Industrial PCs that can operate in hazardous environments such as explosion-proof, oil field drilling, pump station monitoring, chemical plants, pharmaceutical factories, oil pipeline monitoring, tank storage monitoring and fuel station management. Current solutions include data acquisition modules, industrial Ethernet switches, serial device servers, industrial monitors and embedded automation computers.
8. Compatible with Multiple Operating Systems: As programming becomes more flexible, applications demand a myriad of operating systems depending on their specification requirements. Industrial PCs accommodate Windows CE, Windows XP Embedded, Windows XP Pro SP3, Windows 7 32/64-bit, Windows Embedded Standard 7P, Linux and DOS.
9. IP Compliant: Most Industrial PCs are IP65 & IP66 compliant, preventing the ingress of dust and Water projected by a nozzle or powerful jet.
10. Longevity: Since most industrial computing product is manufactured by the respective provider, most boards in the units are industrial, making the length of life longer than standard PCs with 3rd party boards. Most Industrial PCs have availability and support time frames of 5-7 years, making it easy to standardize across your platform. The length of life for most Industrial PCs will exceed 10 years, which is essential when planning and implementing a very large project.
If you find yourself in a situation where you're not sure how to proceed in selecting the appropriate Industrial PC for your application, contact us – we can help!
About Advantech:
Advantech is an innovator in the development and manufacturing of high-quality, high-performance computing platforms and has been for over 25 years. Advantech offers hardware, software, customer-centric design services, and global support for us to integrate with our customers' requirements.