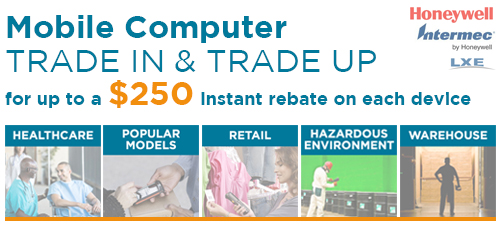 Refresh to the Best: A limited-time offer to trade in and trade up your mobile computer is going on now! Save up to $250 with this mobile computer trade-in program. This offer is valid even when trading in competitive models! Our mobile computer experts are available to determine your instant rebate value.
There are a variety of mobile computers available for different industries. Check out our links below:
Call us at 800-830-9523, we're ready to assist you.
Terms and conditions apply:
*Trade-in rebate value based on price of model purchased.
*This offer cannot be combined with any other promotional pricing, special offers or quantity discounts.
*This offer is void where prohibited by law.
*Your rebate amount will be determined by the number of eligible units traded-in and the corresponding number of eligible new units purchased (a 1:1 ratio of like products).
*Offer valid from November 18, 2014 to December 31, 2014.
*This offer is valid for qualifying purchases of Honeywell family equipment.
*Offer limited to the USA and Canada.
*For inquiries on more than fifty (50) units, call (800) 830-9523.
*This rebate is valid for new product purchased and trade-in mobile computers shipped (freight prepaid) within 30-days of invoice for the new equipment.