L-Tron made the Rochester Top 100 list!
For a bit of company fun, we decided to have a 'reveal party'
on Friday Oct. 31st (also why you may see a person or two in costumes!).
Have fun viewing the progression of our Rochester Top 100 Celebration!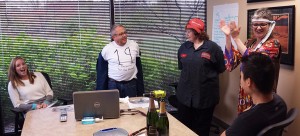 RAD wore 'the number' on his shirt for the big reveal…
L-Tron is 19!
Office selfies and celebrations!

Elyse had the closest guess to L-Trons actual ranking and
won a gift card!
Car is decorated, and everyone is ready to go to the
Rochester Top 100 Luncheon.



 The Convention Center looked beautiful.
Some of the L-Tron Team waiting to cheer for L-Tron #19!
(We also experienced a slight malfunction with
our noise maker…)
The celebrations continue with cake!
Congratulations to RAD, Gayle, and the L-Tron Team!