L-Tron is pleased to announce the release of a new Gen4 Sensor Tube for its patented OSCR360 System. The updated OSCR360 Gen4 Sensor Tube, which will ship with all new OSCR360 orders, includes a variety of new features to improve the overall user experience.
The OSCR360 Gen4 Sensor Tube updates include: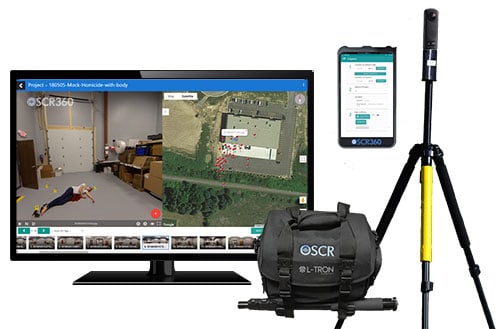 Improved GPS accuracy and performance 
Updated thumb screw attachment 
Improved power button durability
Updated USB-C universal power cord 
Improved ergonomic design 
Longer lasting label 
Brighter indicator lights 
OSCR360 was built to capture, store, organize, and present your case investigation. From crime and fire scenes to motor vehicle crashes and more, OSCR360 efficiently captures the details of an investigation in 360-degrees and incorporates each piece of digital evidence into a comprehensive, visual walkthrough. The OSCR360 Sensor Tube is a part of the OSCR360 Capture Kit, used to acquire GPS coordinates, as well as cardinal direction and additional meta data connected to each OSCR image.
OSCR360 was designed with input from public safety and criminal justice professionals nationwide. Each OSCR360 update, including the new Sensor Tube, reflects the voices of L-Tron customers. L-Tron's team of in-house engineers and software developers build new and improved features directly from customer feedback.
OSCR360 is a user-friendly, cost-effective investigation and presentation tool for law enforcement, fire investigators, district attorneys, school districts, and more.
About L-Tron
Established in 1975, L-Tron specializes in world-class data capture hardware and software for the public sector, healthcare, field mobility, and manufacturing industries. OSCR was developed in-house by L-Tron's team of engineers, who collaborated closely with investigators, prosecutors, and jurors to develop the innovative software system that is now used by public safety agencies nationwide. Our mission is to truly understand your workflow challenges and collaborate with you to find a cost-effective and efficient solution. We're pleasant, proactive, and passionate about providing service and product excellence.
Your success is our purpose!
---


Questions? Interested in more information on L-Tron or the new OSCR360 Gen4 Sensor Tube?
Get in touch with the L-Tron team.
Call 800-830-9523 or Email info@L-Tron.com