As the discussion and reality of the Internet of Things (IoT) begins to grow, so does the interest in many different industries including the National Football League. Click to learn more about IoT.
The IoT Influencers Summit took place this year in Levi's Stadium (home of the San Francisco 49ers). The conference discusses how big the IoT economy could potentially be, in 2020 Gartner estimates 20 billion connected devices in the world (not including smartphones and tablets).
The 49ers stadium is one of the most technically advanced, with Apps allowing fans to actually order food and beverages from their seats and have them delivered to their seats within 7 minutes.
Zebra Technologies recognizes the impact of IoT and got involved with the NFL. Especially in the age of fantasy football, fans want real-time stats of players on the field. This is what they are getting.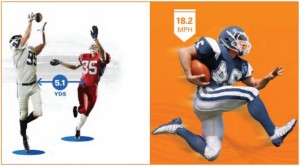 Zebra Technologies is capturing this real-time data through radio frequency identification (RFID) tags. About half of the teams in the NFL are currently using this technology. To learn more about how this works, check out:
From the Field to the TV: Real-Time Stats in the NFL – Part 1
From the Field to the TV: Real-Time Stats in the NFL – Part 2
"There's a lot of ways that you can engage wit your team that have nothing to do with winning." said Jill Stelfox, General Manager of Zebra Sports.