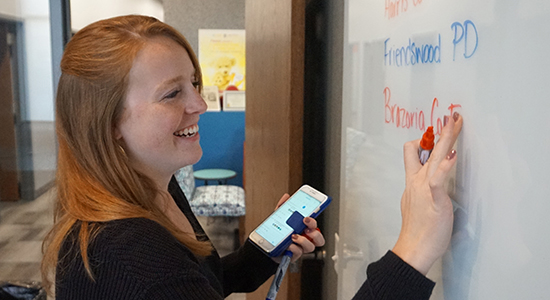 Although she spends most of her time traveling the country with OSCR360, L-Tron's October Employee of the Month still has a strong presence in the office and on the OSCR team. We are happy to recognize Alex Myers, our OSCR360 Account Manager, as the October Employee of the month.
Alex spends most of her weeks on the road demonstrating how OSCR360 can be utilized by agencies across the country. Her dedication and positive attitude have earned her plenty of affirmations from our customers, but most recently a member of the North Regional Major Crimes Task Force wrote a formal Letter of Compliment after attending one of Alex's OSCR360 presentations. The letter commended Alex for her knowledge of the solution and professionalism as she walked a group of law enforcement agencies through how to utilize OSCR360 for close to three hours. Her patience, belief in teaching & helping others, and her eloquence makes her an outstanding representative for both L-Tron & OSCR360.
We celebrated Alex's accomplishments with a team-building activity and some snacks. The office was transformed into an Escape Room complete with puzzles that needed to be solved in order to find out who the next Employee of the Month was. The staff was split into two teams and instructed to find the clues that would lead to the big reveal. The clues led to a stapler with a barcode that revealed that Alex was the next Employee of the Month once it was scanned by one of our 4910LR Driver's License Readers.
After the team-building activity, Alex was presented with a framed copy of her Letter of Compliment, a gift card to her favorite restaurant, a certificate that had been signed by everyone in the office, and the Employee of the Month parking spot. She is also featured on an Employee of the Month board that the office can use to post nice notes about her all month long. Trevor, our Vice President of Engineering & Sales, read the Letter of Compliment to the team and thanked Alex for her hard work. The team also shared some cookies and veggies to wrap up the team-building activity and celebrate Alex's outstanding achievement.
Congratulations Alex for your well-deserved Letter of Compliment and for being named L-Tron's October's Employee of the Month!
---
Questions? Interested in learning more about our October employee of the month?'
Get in touch with the L-Tron team.
Call 800-830-9523 or Email info@L-Tron.com