L-Tron is proud to introduce the Zebra MC9300 handheld mobile computer. Zebra's newest mobile computer allows warehouse workers and manufacturers to scan products and manage distribution easily (and on-demand).
What's different about the MC9300 Mobile Computer?
The MC9300 Mobile Computer is THE ultra-rugged Android keypad/touch mobile computer. Currently, the MC9300 series is being used by over three million workers to streamline their processes. As the MC9200 nears retirement, the MC9300 is available and shipping now.
Zebra's MC9300 delivers revolutionary technology;
Advanced data capture, with a capture radius of up to 70′.
Maximum power processing & memory.
Increased WiFi range, speed & response times.
Battery life for a full shift & beyond.
Lifetime security guard for Android.
Optimized application support.
Increased worker satisfaction on the warehouse floor.
Employee satisfaction matters
Users of the MC9300 mobile computer enjoy a larger, and more user-friendly touch screen. This feature, along with indoor/outdoor readability and data input flexibility enables users to view more data. Other employee benefits include a vibrate feedback mode, all day comfort with a pistol-style weighted grip, and NFC for simple pairing with other tools (ring scanners, mobile printer headsets & more).
Built for Challenging Environments
The MC9300 is the most rugged device in its class. The mobile computer is built to withstand freezers, coolers, hazardous materials and other harsh environments. Virtually waterproof, drop-proof, dust-proof and tumble-proof, the Corning Gorilla glass also brings maximum scratch & impact resistance to the device.
[Infographic] The New Zebra MC9300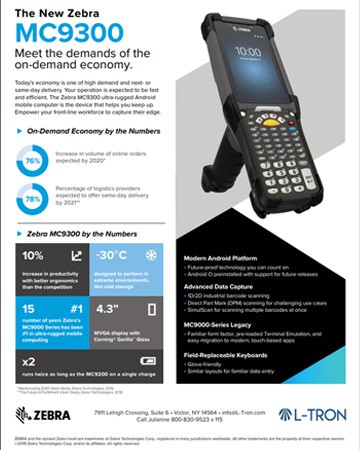 Interested in learning more about the newest Zebra mobile computer? Download the MC9300 spec Sheet, or download the "Key Considerations when Choosing a Modern Mobile Operating System" here.
The Zebra MC9300 can help your manufacturing, distribution or warehouse environment boost productivity, streamline operational efficiencies and enhance worker satisfaction.
---

Questions? Interested in learning more about the MC9300 Mobile Computer?
Get in touch with the L-Tron team.
Call 800-830-9523 or Email info@L-Tron.com