Victor, NY, USA: Effective January 9, 2014. L-Tron Corporation introduces Advantech's DSD-5028 Stretched Digital Signage Display Monitor. Ideal for public information display, the innovative 28" high resolution stretched display features an LED backlight and ultra wide viewing angle.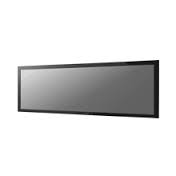 Ideal for spaces with limits in height or volume, the narrow, ultra-wide monitor supports a flexible wall mount for easy installation in either the horizontal or vertical position. The monitor supports VGA and DVI signal interfaces and audio functions for easy connection with the plug-and-play system. The DSD-5028 pairs well with Advantech digital signage players in a rear AD box, creating an all-in-one total solution.
As compared to conventional LED signage, the DSD-5028 delivers a superior resolution of 1920 x358, a super-wide aspect ratio of 16:3, and consumes only 40W of power, a reduction in power consumption of over 50%.
With dynamic contrast adjustment and super color tone function, the DSD-5028 is suitable for a wide variety of information display applications, including public transportation, call centers, hospitality, restaurants/bars, casinos, and elevators. Advantech's DSD-5038 38" Stretched Digital Signage Display Monitor is due to be released soon and will be available on www.L-TronDirect.com, as well.