Victor, NY, USA: Effective February 19, 2014.  L-Tron Corporation, a leading supplier of data collection and industrial solutions globally, is proud to announce being named a Carestream Health Inc. Certified Supplier for the third consecutive year.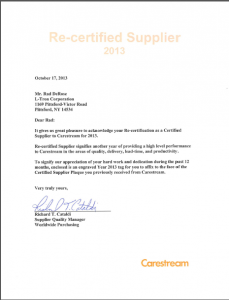 L-Tron's Certified Supplier status is based on consistent outstanding performance in the areas of quality, delivery, lead-time and productivity.  The original certification process required a rigorous audit of L-Tron's processes.  According to RAD DeRose, L-Tron President and CEO, "This significant achievement is just another example of our outstanding commitment to our customers."
"Customer satisfaction is our priority," DeRose explains.  "We pride ourselves in providing exemplary service to each of our clients on a daily basis. Carestream Health took notice of our ongoing reliability and quality performance by providing L-Tron with the opportunity to earn the status of Certified Supplier three years in a row."
L-Tron's longtime relationship with Carestream has spanned over two decades, and includes being named Carestream's "Best Performing Supplier over Three Years" in 2010. DeRose plans to attend Carestream's 8th Annual Supplier Event on March 19, 2014, which will bring together Carestream Health leaders, clients and suppliers.
Carestream Health, a dynamic global company, serves tens of thousands of customers worldwide in the radiography, healthcare IT, dental imaging, molecular imaging, and non-destructive testing markets.
Founded in 1975, L-Tron Corporation provides data acquisition, data collection and industrial automation solutions for commercial, manufacturing, healthcare, OEM, Law Enforcement and government agencies around the world. L-Tron works closely with clients to improve both their operating efficiencies and ability to control costs by partnering with industry-leading manufacturers to design, develop and deliver the best productivity-enhancing solutions.