L-Tron Corporation is pleased to announce the development and implementation of a custom-configured Supervisory Control and Data Acquisition (SCADA) solution for an active packaging company in Western New York. The SCADA solution was designed to monitor usage, throughput, output and productivity within the packaging company's manufacturing facility, as well as diagnose machine status and potential problem areas.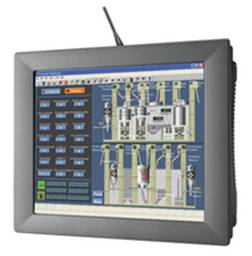 Without a method for effectively monitoring their manufacturing processes, the packaging company turned to L-Tron to establish a system and process for monitoring employee and machine output, machine status and overall product quality. L-Tron completed a full survey, assessment and functional design document prior to developing a customized Indusoft SCADA platform, which operates on Advantech 12.1" Touch Panel Computers, and incorporates Advantech Ethernet switches and Honeywell 2D barcode scanners, as well. L-Tron is working with the packaging company on a total of five projects, which will entail the development of 200 systems. Delivery is expected by the end of 2015,

with L-Tron providing onsite support and training throughout all phases of implementation.
RAD DeRose, President and CEO of L-Tron Corporation, notes "We are providing the packaging company with a customized, fully integrated solution, designed to meet our client's unique specifications and requirements."
L-Tron Corporation, an industry leader in industrial automation solutions, specializes in the conceptualization, implementation and support of fully customized SCADA solutions, including an on-site evaluation and a complete understanding of the project requirements.