Learn more about the UNO-2100 Series of High Performance Industrial Automation Computers by Advantech.
High Performance Automation PCs with 3rd Party I/O Capability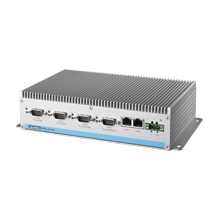 L-Tron Corporation announces the availability of the UNO-2100 Series of high performance automation computers, which includes the recently launched UNO-2174A/G/GL, UNO-2178A, and UNO-2184G industrial PCs. With a wide range of computing power from Celeron M 1GHz to Core 2 Duo 1.5GHz, and ports with automatic flow control, a PC-104 slot allows users to add any 3rd party I/O module for a wide range of industrial applications.
Each of the compact UNO-2100 Industrial PCs is equipped with serial communication ports and several other networking interfaces. Users can seamlessly integrate applications into Windows XP Embedded and speed up system development with an application ready platform that can provide multiple networking interfaces to fulfill many requirements. The fanless PCs have no internal cabling and can be mounted via DIN-rail, Wallmount, or VESA. Compatible with Windows® 7, UNO-2100 PCs feature WLAN and 3G expansion, as well as chassis and grounding isolation. L-Tron offers custom configurations for all of the UNO-2100 computers.
The Energy Star certified UNO-2174A and UNO-2178A Embedded Automation Computers are
equipped with Intel® Atom™ N450/D510 1.67GHz CPUs, Gigabit Ethernet ports, rich I/O, and 2 x Mini PCIe socket. With IP40 anti-dust ingress protection and wide operating temperatures, these models provide high performance and versatility with low power consumption. Both models are economic computing platforms ideal for manufacturing executing systems, facility automation, and industrial thin client applications. With an additional daughterboard, the PCs can support 1 x PC/104+ and 1 x PCI-104 plug in cards for further expansion.
UNO-2174G/GL and UNO-2184G PCS are Intel 2nd generation Core i7-2655LE/847/807UE grade controllers that support PCI-104 with daughterboard expansion, 3 x display, 6 x USB, and 2 x Mini PCIe socket. These high end computing platforms are designed to support applications with
tremendous data volume and 3D content.
L-Tron Corporation is Advantech's AOnline Engaged Channel Partner for the Northeast United States, working closely with Advantech to stay in tune with industry and technology trends to
meet customer needs. L-Tron recently won Advantech's "Best Growth" 2013 Award, in recognition of L-Tron's high growth rate percentage and ongoing partnership.
http://www.prlog.org/12244410-high-performance-automation-pcs-with-3rd-party-io-capability.html