L-Tron recognizes team members for dedication & commitment to the company.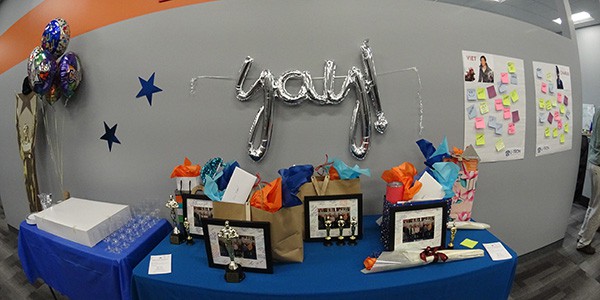 This July, we celebrated the NINE 2019 employee anniversaries with the L-Tron family:
Happy Work-iversary! On Wednesday, July 3rd, the L-Tron team threw a party to celebrate our amazing employees. Their hard work and dedication is what allows us to provide exceptional service and create quality solutions. We consider the office a family and we love to celebrate each other's achievements!
Jeremy
Carmella
Elyse
Trevor
Julianne
Alex
Andy
Hank
John
10+ years
8 years
5 years
5 years
3 years
2 years
1 year
1 year
1 year
L-Tron kicked off the 4th of July holiday with our 2019 employee anniversaries. We had a delicious BBQ meal including brisket, ribs and bbq chicken. The team also shared a buttercream sheet cake from Wegmans.
Each employee received an honorary "Oscar" in honor of OSCR360 – our 360 degree crime & crash scene solution. The honorees also received a gift bag from L-Tron with a mug, drink of choice, and signed photo of the L-Tron team. Every team members who was celebrating milestone anniversaries also received a special, personalized surprise – like a gift card to the spa or their favorite local restaurant.
Perhaps the best part of the day was sharing in what makes each employee special and why they are so important to the L-Tron family. The entire team went around and added post-it notes to posters of each honoree. These kind notes spoke to the skills and quirks of each team member. Everyone shared their greatest accomplishments at L-Tron & what they were most proud of.
L-Tron is so thankful for our amazing team members. We are more than co-workers, but a true family that stands together.
Check out some pictures from our 2019 employee anniversaries BBQ lunch:
Questions? Interested in learning more about our 2019 employee anniversaries & company culture?
Get in touch with the L-Tron team.
Call 800-830-9523 or Email info@L-Tron.com