Widescreen, easy-to-use touch panel computer with advanced graphical performance is designed for manufacturing and automation applications.
Intuitive Multi-Touch Computers for Manufacturing Control
L-Tron Corporation announces the availability of the TPC-1840WP 18" Multi-Touch Panel Computer, developed by the Industrial Automation Group of Advantech Corporation.  The TPC-2140WP 21" Multi-Touch Panel Computer is set to be released by Advantech in the coming months and will be available through L-Tron Corporation, as well.  Both widescreen devices were designed to improve productivity within manufacturing control environments, building automation, and HMI applications.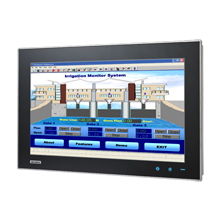 These multi-touch PCs, which won the 2013 iF Award for product design, are extremely intuitive, offering users easy operation and convenient viewing of information with just a simple finger touch.  Both devices have IP65 compliant, anti-scratch flat screen surfaces and a front LED indicator to show operating status.  With advanced graphical performance, both 16:9 models provide 40% more screen area than 4:3 displays and support HDMI for a second display application.  The 1840WP and 2140WP are easily maintained, come equipped with AMD Dual-core processors, and utilize a fanless cooling system.
Jeremy Miller, Advantech Specialist for L-Tron Corporation, says "Advantech'
s multi-touch widescreen touch panel computer line will enable users to have more control over their applications, while allowing for quick and easy access to mission-critical information."
L-Tron and Advantech have partnered together for over 20 years, offering the highest quality, highest performance computing platforms to integrate with client requirements.  In February 2013, Advantech named L-Tron Corporation its AOnline Engaged Channel Partner (AECP) for the Northeast United States.  L-Tron provides clients with Advantech Automation products that range from embedded fanless box PCs, HMI solutions, and remote Ethernet enabled data collection to wireless gateways and switches.
http://www.prlog.org/12146148-intuitive-multi-touch-panel-computers-for-manufacturing-control.html