I am a distracted driver.

Do I text and drive? Absolutely not. But being a distracted driver is so much more than just that. I WILL answer a call on my phone while I'm driving and switch my phone over to Bluetooth. I WILL drive with my dog in the front seat (who can be very distracting). I WILL snack and eat in my car. I WILL play with the radio, rummage in my purse for chapstick, and drive 5mph over the limit when I'm running late. I'm busy, I'm rushing – but those should not be excuses.
April is Distracted Driving Awareness Month. According to the National Highway Traffic Safety Association (NHTSA), distracted driving claimed 3,477 lives in 2015, while 391,000 people were injured in crashes involving distracted drivers. A recent report from AAA stated that 88% of young Millennials (ages 19-24) engaged in at least one risky behavior while driving in the last 30 days. Many people don't realize that their car can be a weapon.
Stop being a distracted driver.
4 ways you can make a change:
Switch your phone to airplane mode while you are driving
I love airplane mode. When I'm working, want to unplug, or just need to be left alone for a few hours, I will switch my phone into airplane mode. It gives me a chance to focus on a task. Why would I NOT utilize airplane mode for something that requires my full attention – like driving my car?
If airplane mode gives you major anxiety, you can set-up auto-respond texts while you're driving. This way you can still be reached in case of an emergency, but anyone texting you will receive a message informing them that you are behind the wheel.
Leave 5 minutes earlier to get to your destination
Speed is a major factor in most automobile crashes. Take 5 extra minutes to ensure the safety of yourself and others on the road. Give yourself time to focus on the road and to drive cautiously. If you are running late, remember, it's always better to arrive somewhere 5 minutes late than not at all.
Make a driving playlist
I am notorious for constantly flipping radio stations. My musical tastes are all over the place. Although the radio may not seem like a huge distraction, creating a playlist of your favorite tunes can limit how much you are fiddling with those dials. Make it part of your process – get in your car, put on your playlist, and then put your car in drive.
Prepare for your drive, before actually putting your car in drive.
As soon as you get into your car, make a plan. Program your destination into your GPS, set your playlist, make sure anything you might need while driving is within easy reach (water bottle, sunglasses, etc.).
---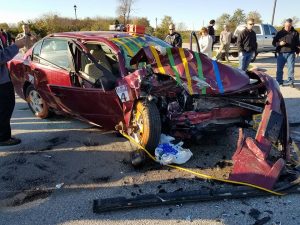 This past year, I have had the opportunity to attend several crash demonstrations at various crash reconstruction conferences. L-Tron's OSCR360 Solution is a tool that police officers can use to capture and organize evidence at crash scenes. After hearing some of the horror stories involving drunk drivers, distracted drivers and fatal collision scenes – I never want to be responsible for a crash. Encourage your family, friends and co-workers to practice safe driving.
Stop being a distracted driver – share any tips you have for limiting distractions behind the wheel @LTronCorp.