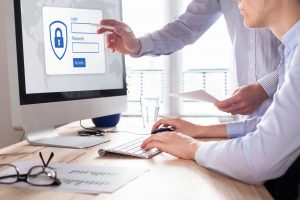 Written by Alex Myers
In 2016, approximately 689 million people in 21 countries experienced cybercrime of some capacity, which was a 10% increase from 2015. Today's modern society keeps us constantly connected to our devices, making it increasingly more complicated to protect our data and secure our information. Although National Computer Security day has recently passed, it is important to be aware of cyber security year-round. We've prepared a list of the top 12 tips to stay secure for National Computer Security day. Better protect your information and your computer. Keep reading for the first 6 tricks and start doing them today!
1. Passwords, Passwords, Passwords
If you've heard anything about information security, it likely had to do with your passwords. We've all seen the strength indicators when making new online accounts. There's no surprise that passwords matter.
Here are a few details to keep in mind regarding passwords:
Choose Strong Passwords –Use a combination of letters, numbers, and special characters to diversify your passwords. It only takes a hacker 10 minutes to crack a 6 character, lowercase password. By adding extra letters, numbers, or symbols, the amount of time exponentially increases.
Use Two-Factor Authentication – As a multiple-step verification process, this authentication mechanism double checks the legitimacy of your identity with predefined questions or access codes.
Practice Good Password Management – Password managers store all of your passwords in one secure location, meaning you only have to remember 1 password. There are many free options out there, so choose the right one for your needs.
Use a Password Generator – Can't think of a new, complex password to use? Use a free, online password generator, then store it in your management software.
2. Set Automatic Updates
You use your computer on a daily basis for numerous tasks. Make sure you're constantly protected by installing software updates for your operating systems and programs. Be sure to:
Turn on automatic updates for your specific operating system.
Ensure your internet browsers are updated and receive regular and automatic security updates.
Keep your browser plug-ins (flash, java, etc.) up to date.
Install protective software and firewalls to keep your computer from being scanned.
Your cyber security should be "onion-like" with multiple layers of protection. A multi-layered security system can stop cyber-attacks at all levels
3. Back It Up
If you worry about the data on your computer, like most people, it's important to protect your important and sensitive data by continuous back-ups on your machine. The rule of thumb is to back up your data at least 3 times, one of which should be on a secure, off-site location (similar to an external hard drive).
If it's important to you, back it up.
4. Stay Up To Date – For National Computer Security Day (and always)
Cyber security impacts all users, individuals and corporations. Understanding trends and news will help you keep up with the security on your computers and better prepare you in the long run.
Check out five trends for 2017 and 2018 trends here or subscribe to a cyber security newsletter of your choice.
5. Who's Using My Computer?
If you're out in public, don't leave your devices unattended. Keep them locked and sleeping if you get up. Or, better yet, take them with you! You never know what could happen when you're not looking.
6. Check It Before You Click It
Similarly to the previous tip, if you are out in public, ensure that you're using the internet safely. Utilize a secure connection and engage in sensitive browsing.
Norton Cybersecurity Insights Report announced that in 2015, there were over 594 million people world-wide that were victims of cybercrime. Of those individuals, 21% of Americans were hacked via email and 12% had their financial information stolen after online shopping.
Banking, shopping, and medical-related searches should all be done on a device owned by you and connected to a network you trust. Additionally, if a website URL doesn't start with 'https', don't give them your confidential information.
When it comes to email usage, always be careful when clicking on attachments or links. Scammers can hide viruses and bugs in links and send spam emails, so always proceed with caution. If a link looks suspicious, check it before you click it with these sites: https://www.virustotal.com/, http://global.sitesafety.trendmicro.com/, and http://zulu.zscaler.com/.

Have these first 6 tips been helpful? If so, please check back for Part 2 of this series, which will contain 6 more tips for cyber security, coming later this week. Happy National Computer Security Day!