As times change and it becomes more important to monitor product manufacturing & assembly, test and control, and quality, implementing an Industrial SCADA system has become a great way to do so. There are a myriad of factors to consider when planning such a project: How many systems will be required? Is this a retrofit or new build? What are the specification requirements off all components when tied together? What is your goal and what are you trying to accomplish?
Besides these questions, you also have to consider who will do the software development, hardware configuring, system build, platform implementation and support. I have included some things below to consider before taking on such a task.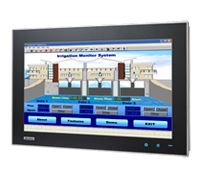 HMI (Human Machine Interface)
Industrial HMI is available in two primary solutions. The first is a fully configured and operational touch panel computer with CPU, RAM, Storage and OS. The second is an Embedded PC configured with CPU, RAM, Storage and OS, combined with a flat panel monitor.
Ethernet switches are available in retail models but for Industrial applications, hardened switches are preferable due to their physical construction, lifespan and adherence to temperature severity. These switches are also available with 10/100 FE LAN, 10/100/1000 GbE LAN, Copper, Fiber Optic and PoE ports.
I/O
There are Industrial I/O modules available that utilize Modbus/TCP, Modbus RTU and ASCII commands over RS-485 or Ethernet protocol. These modules can transmit Digital and Analog I/O and can be tied into the PLC with the data made accessible via the SCADA software.
PLC (Programmable Logic Controller)
A Programmable Logic Controller (PLC) or Programmable Automation Controller (PAC) is vital to any SCADA process. It is the main heart of any system and will send and receive commands and information as programmed. It also interfaces with all essential I/O and will supply all information to the HMI.
Barcode Printing
Where barcodes are required, there are numerous printing options available. The printer you select will be determined by the physical environment of the printer, interface connectivity, label requirements and quantities printed per day and week.
Barcode Scanning
If traceability on a product and/or employee level is required, a barcode scanner can be quite useful for this process. There are several factors to consider before selecting the appropriate model. Size of barcode(s), distance of scan, light conditions, physical environment, scanning distance, interface and placement of scanner(s).
Vision Inspection
In SCADA applications where manufacturing is present, vision inspection is required. The camera(s) utilized for this process must be able to adhere to the scanning specifications requirements of the object(s), barcode(s), environment, interface and operators.
Software
Without SCADA software, there's no way to combine all of the variables discussed above together and present the information required in an orderly fashion on screens for use, viewing, inspection, monitoring, revision of the current process(s). It's important that you select your software based on the amount of tags required and drivers present that require interfacing via the HMI. Most SCADA software can be developed in-house but there are value-added solution providers that will develop the software per specifications requirements detailed in a Functional Design Document. They can also assist with installation, implementation, testing and training of the selected platform. While some only specialize in software, others cover all areas listed above.
There are so many facets to consider for your Industrial SCADA system that aren't always clear while planning things out.  If you are looking to implement a fully integrated SCADA system and aren't sure what you will require, feel free to contact me at 800-830-9523, ext. 126 or via email at Jeremy.Miller@l-tron.com.