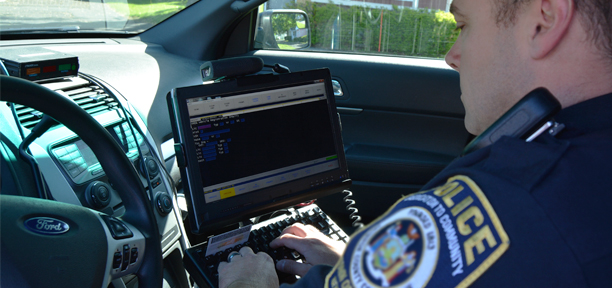 Victor, NY, USA: Effective September 17, 2015. L-Tron Corporation is pleased to announce that retired Massachusetts State Police Colonel Timothy Alben has joined the presentation team for the upcoming webinar entitled, Distracted Patrol: Managing the 21st Century Technology Tightrope, hosted on Officer.com. The one-hour webinar will take place on Wednesday, September 30, 2015 at 1:00 PM EST.
The webinar will explore the history of law enforcement technology tools in the patrol car, how to safely minimize and manage distractions, as well as how to effectively maintain situational awareness for officer safety purposes. RAD DeRose, L-Tron CEO, explains, "We strongly value the law enforcement community. We want to express our gratitude by providing educational opportunities on best practices whenever possible."

Co- Presenter Colonel Alben began his career with the Mass. State Police upon appointment as a Trooper on May 7, 1983. Over the ensuing three decades, Alben rose through the ranks, culminating with his appointment to the department's top position of Colonel/Superintendent on July 13, 2012. Alben remained in that chief executive position from 2012 to 2015. In over three decades of service, Alben served in command positions within the department's Divisions of Field Services, where he was Division Commander, Investigative Services and the Division of Standards & Training.
Colonel Alben has a Bachelor's Degree in Criminal Justice from Westfield State University; a Master's Degree in Criminal Justice Administration from Western New England University; and a Master's Degree in Security Studies from the Naval Postgraduate School. He is a graduate of the FBI National Academy and the National Preparedness Leadership Initiative at Harvard's Kennedy School.

Co-presenter Christopher Tarantino, MEP CMCP, has ten years' experience in the public safety arena. Mr. Tarantino is a training subject matter expert; the CEO of Epicenter Media & Training, a crisis/emergency management consulting and training agency with a focus on technology and information/communications management; and a certified Crisis Management Communications Professional.
Mr. Tarantino also serves as a Subject Matter Expert/Instructor for the National Disaster Preparedness Training Center; a Digital Communications Specialist for FEMA and maintains volunteer roles at the local/county level with organizations such as the Monroe County Special Operations Unit.
For additional information on situational awareness and distracted patrol, click below.
L-Tron has worked closely with U.S. law enforcement communities in over 40 states for 15+ years, specializing in eCitation and vehicle mobile computing solutions. L-Tron has deployed solutions to over 1,400 state and local public safety agencies.