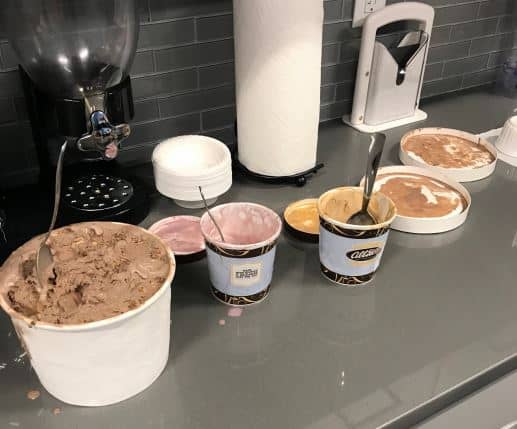 This past Thursday, August 8th, was National Frozen Custard Day. How did the L-Tron team celebrate? With Sundaes of course!
A poll was sent around the office a few days before to determine what flavors everyone liked (I discovered that Chocolate was the favorite) and team members were asked to bring in their favorite toppings to share.
Even though the National Custard Day was technically on Thursday, we waited until Friday to celebrate so that we could honor our August Employee of the month, Cathy! The whole office toasted Cathy with sundaes and enjoyed a little mid-afternoon pick-me-up. We had a variety of Abbott's flavors including Vanilla, Chocolate, Chocolate Almond, Black Raspberry, and Coffee Frozen Custard. There were plenty of leftovers (that won't last long) in the freezer and the kitchen will be stocked on Rainbow Sprinkles for a while. We had so much fun enjoying this sweet national day while celebrating Cathy's achievements as an individual leader in her role as Quality Process Lead. Not only is she an outstanding member of our Operations Team, but Cathy has also been working towards becoming a certified Notary Public! We are so proud of her accomplishments and happy we got to celebrate with Frozen Custard Sundaes.
How is frozen custard different than ice cream?
This question came up a lot on National Custard day. Turns out Frozen Custard is very similar to ice cream, but this delicious dessert is made with eggs, cream, and sugar. The egg yolks creates a creamier texture compared to ice cream, while helping the custard stay colder longer! We know that Frozen Custard and ice cream are both delicious, but which is your favorite?
Share with us on Twitter @LTronCorp or Facebook.
---
Questions? Contact the L-Tron team to learn more National Custard Day & our company culture.
Get in touch with the L-Tron team.
Call 800-830-9523 or Email info@L-Tron.com